Yiigaa's a multi-talented musician, theatre nerd and artist who is part of a cadre of young musicians that are blending and bending genres together. To a backdrop of jazz standards, corrugated shipping crates and someone literally drilling the lights into the cafe we are in, I talk to the effervescent Yiigaa about music, spirituality and writing.
So you've got a bunch of projects coming up, your first headline show is approaching, your new EP is coming out. How are you feeling about it all?
Yiigaa: I'm so excited because I don't take many bookings and I haven't for a while. I think we were trying to establish what setup we would have and perfect that in terms of my sound because a lot of my sound is quite electronic.
So we wanted to give people a live experience but we wanted to make sure that it was also true to the time and effort it takes to make sure that the Electronic blend and Afrobeat blend and Pop are still there when we're live. So I'm really excited to give that to people.
So you take so many genres, what is your process, your sound when you're looking for it?
Yiigaa: Right so the way that I usually write is on the piano. So I write choruses in house keys, Then when I get into the studio I often implement the poppy element in it, then I put in the Afrobeat drums, then I put in like some electronic house elements. It's almost like a puzzle piece.
It is a challenge to make sure that everything sounds good because at first, it sounds like a mess. All these different sounds coming together and we're like 'this sounds like shit'. So it takes a long time to make sure they all balance with each other and bring out the best in one another.
With balancing so many sounds what is one of the easiest or most difficult bits to balance?
Yiigaa: So we like to push ourselves so often and like adding maybe some kind of indie alternative stuff. I work with a guitarist called Owen. He brings indie chords and likes indie guitar. So yeah, if it gets too easy, and it sounds too basic, even though it's not, we'll throw something else in there and be like, let's just push it further.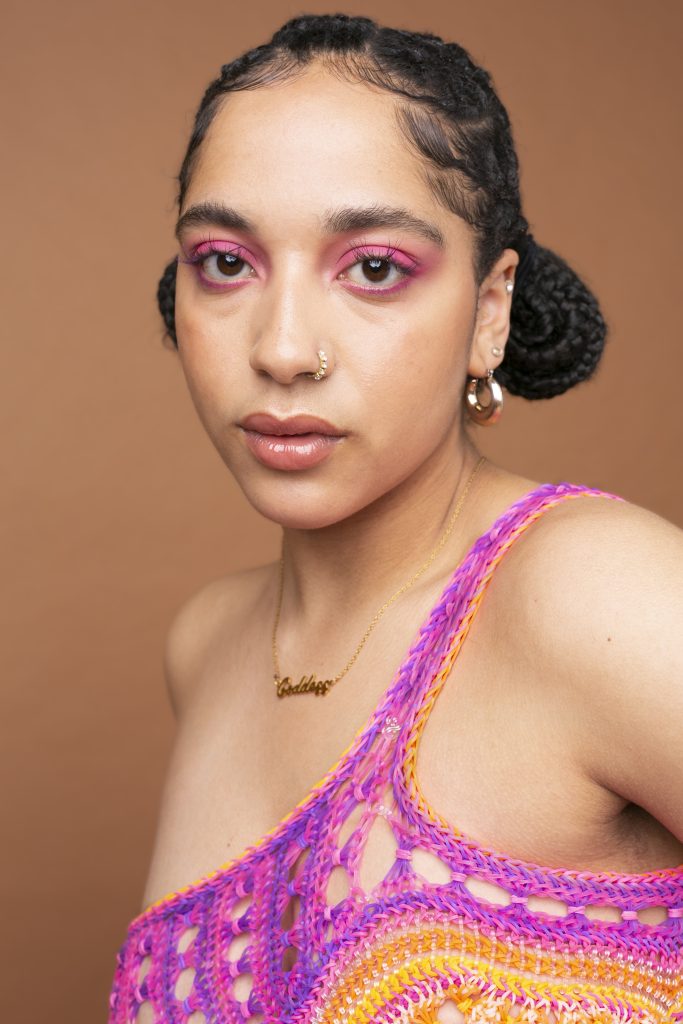 And on working with other people. So you've got a new EP, Soul Ties coming out soon. And it's got two unreleased tracks, so what can people look forward to that?
Yiigaa: So the first thing is that it has two new features. That in itself brings something different because both Piers and Isaac have very, very different sounds.
So I've been listening to them and am a fan of theirs. I really like Isaak's work and I really like Piers' work so let's combine those two together and see what we have. Both bring a different feel, I guess. Piers is from the Caribbean, so has more of like a Caribbean influence. And Isaac, he's obviously a rapper.
So that's always fun to work with as well. It's just something a bit different to the other stuff.
So with my last EP, I was in the studio so much on my own, that I started not being able to hear other people on my tracks. And that was really sad because I actually love working with people, that's why I love theatre so much.
So you were born into a very, very musical family. So was there always music in the house?
Yiigaa: Oh, from when I was really young. My mom's a huge music fan. My dad's a musician so I grew up around so many different types of genres. I think that's why I have such a passion for combining them; my mom was a huge reggae fan, a huge punk fan, and a huge world music fan for instance Latin American music.
My dad's an African musician. And then obviously, growing up in Brixton, we listened to huge amounts of Dancehall, Reggae, but also things like Garage, House, Drum 'n' Bass. So I just grew up around so much different types of music, obviously Pop, what you hear on the radio, Hip Hop and R&B.
You released a short film with your last EP (Inner Dawn) , and you were talking about how it was about finding the inner light? How do you feel like have you found that in the light and is that EP now building on from that?
Yiigaa: And I think obviously, we've had COVID in between that time. So obviously, bringing light from within yourself is extremely important. It feels like everything's not working out in terms of, COVID and we're in quite a dark space as a world it's difficult to keep that positivity, you know.
So this EP is more about embracing the fact that it's okay to feel, it's okay to learn. It's okay to feel down. It's okay to go through things. But ultimately, in the end, you will come out a stronger person but it's more embracing the darkness.
You mentioned the Apple Music did you find out live on air that you were nominated as an ascending artist?
Yiigaa: That was just like an interview. I found out in the studio. I was an ascending artist of the week. So I found out in the studio, but it was quite funny because I was singing, and I found out and I was like, so flustered, I started singing. And my producer, he was like "the mics over there". So I was standing there in the middle of the studio singing out to the room.
You've got the Soul Ties EP looking forward to it. What is next after that? Do you have a long-term goal?
Yiigaa: I want to create a sound in London where people listen to it and say 'That's Yiigaa'. But definitely, it's important to me to make sure that London is part of that.
I can grow within London before that happens because that's my home. So, definitely create with artists, meet new people getting into the studio, and do more shows. So moving wider and building my audience hopefully. I really want to work in Africa as well in South Africa and West Africa, where my background is from. So I'm just excited. Get me on a flight!
Yiigaa's New Ep Soul Ties is out now and can be found on Instagram @yiigaa.
Photography by @karla.lizethephoto
Styling by @siennamayers
Wearing @annadewhirst
Makeup by @jodiejmakeup