Words: George Pizani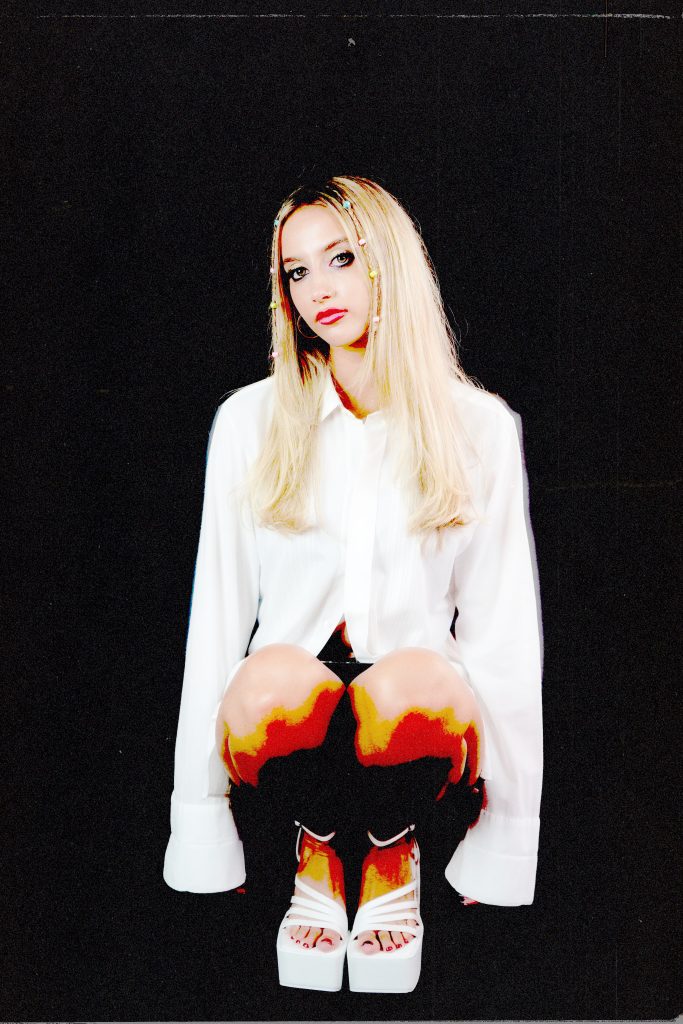 The sun was shining as Erin Bloomer took to the stage in Brighton's Stanmer Park on a Friday evening earlier in July. As the 21-year-old viral sensation wowed an audience of N-Dubz fans, there was no indication that this was only the singer's second-ever live performance. 
Erin Bloomer is no stranger to the world of music, having first begun releasing covers on Youtube when she was barely a teenager, but performing to a crowd is something altogether different. When I spoke to Erin on the Monday after her gigs, she talked about the toll of performing, of putting herself fully into the shows and about how she finds lyrical inspiration in the stories of her friends.
"These past two days I've just been sleeping" She told me over Zoom from her family home in Sussex. "Because I've never really done this before, I didn't know how intense it is on your body, having all that adrenaline built up in you. Once it's done the tiredness just hits you." she said.
Bloomer was originally slated to perform at a different N-Dubz gig, finding out about its cancellation during rehearsals just days before the event was due to take place. With outfits lined up, rehearsal rooms booked and a band waiting to play, the artist was adamant that the opportunity would not be a wasted one. A few hours later, having reached out to N-Dubz directly, and sending over a collection of samples, Bloomer was booked to open for the group at their upcoming Brighton and Margate dates.
The show was a success, seeing Erin perform not only alongside a rejuvenated N-Dubz, but also Love Islander- turned-musician Wes Nelson. Bloomer flitted with ease through her collection of viral songs, many of which had never been performed publicly, and managed to enrapture an audience that largely consisted of devout N-dubz fans. Amongst her crowd-pleasing tracks was 'Wasted It On You', the artist's newest single, and one which marks a movement into a sound that is noticeably angrier.
"Wasted It On You" isn't just a tonal departure for Bloomer, it's also one of her few songs not to be drawn from a situation experienced by someone close to her. The track was written during a period of relative calm in the artist's friendship group; "I just put something on my Instagram story asking my followers for their drama, and one of them sent a message about feeling like you've wasted all your time and energy on someone and it not going anywhere. I just thought yeah, that's a relatable subject" she explained. 'Wasted It On You' is a catchy single with a back-chatting attitude that pays homage to the pop pioneers that have informed Bloomer's musical identity – the first CD she owned was Avril Lavigne's 2004 'My Happy Ending'.
Bloomer's single, a collaboration with established producers Future Cut, has already raked in close to 150,000 streams on Spotify, yet even this level of exposure appears minimal against the seventy-nine-million streams displayed underneath "SAD", a club-ready release from Raastar and Imanbek for which Bloomer provides a contrastingly-airy set of vocals.
The impact of TikTok, and social media more generally, can not be overstated in the story of Erin Bloomer's recent success. Speaking to Erin, it was clear that self-promotion and the role of social media are not aspects of her career that she resents, acknowledging the impact that both have played from the very beginning; "That's what first got me into the music industry, literally. When I was twelve years old I started posting covers and that's how people started to notice me and it wasn't just my mum and dad telling me that I'm good at singing", she told me.
The attention the artist has given her online fanbase over the years paid off last weekend, when for the first time, Bloomer was able to appreciate the presence of a live audience who knew her lyrics word for word despite her lack of performance experience. "They were sending me messages afterwards being like 'Oh my gosh im so excited I saw you here' and people were coming up after the show and saying hello", she recalled.
Bloomer's success shows no signs of fading, with her online virality continuing to grow, and a newly proven ability to impress on stage. If past releases are anything to go by, 'Wasted It On You' will soon be heard on for you pages across the globe. The single is available to stream on Spotify, Apple Music and wherever else you get your music.