If there is one thing that Afro-soul recording artist and Lagos's very own 'WurlD' is good at, it is the consistent quality of hits he delivers. The super talented Nigerian singer song writer who is now based in Lagos has lyrically grown expeditiously since 2012.
His first EP "Evolution" was one of the most celebrated EPs of the year 2012 with hits such as "Beyond our dreams" and "All night". With all WurlD's success – going certified gold in 2015 and receiving a nomination for best diaspora act at the Nigerian entertainment awards, there's no doubt that WurlD has proven that he has longevity in the music game and that he will continue to shake up the industry with his music.
Born Sadiq Onifade, the Afro-Fusion artist has had an inspiring prolific journey, moving from the streets of Mushin in Lagos to the US, from where most of his music has been conceived. The complete creative embrace of that cross-cultural influence has become his strongest point, offering a unique angle to his sound. Moving to America gave WurlD the opportunity to gain experience in music and fall in love with song writing.
WurlD is based in Lagos, after being based in Atlanta for some years.
In 2016 the Nigerian singer released a song called "Show You Off" he said in an interview with (The Cover) that before creating this song he became more aware of Afrobeat and the significant impact the genre has on the world. He started to realise that this genre of African music had the capability to make the rest of the world stop and look at Africans and appreciate their music sound and artistry.
WurlD has five studio completed EP's. All Ep's are strongly influenced by his culture and African heritage. WurlD's mesmeric blend of West African and Black American music takes you on a soulful and genre bending experience filled with stunning vocals!
Afrobeat's sometimes called Afropop is a distant descendent of the jazzy, energetic Afrobeat (with no "s") sound that Nigerian multi-instrumentalist "Fela Kuti" took to a global audience in the Seventies. Lively and electronic, it's characterised by melodic, heavily Auto-Tuned vocals and dance rhythms. The Afrobeat genre has grown globally over the past few years, the enigmatic and eccentric star has been at the forefront.
Since dropping his debut EP love is contagious in 2019, WurlD has grown to become a powerhouse, crafting his own sound, and crossing over into genre less territory. From navigating the ever-evolving scene of Lagos to his status on the big stage, the artist's work rate has never slowed or stopped!
Not only is WurlD making noise in the music industry for his undeniable musical talents he is also finding ways to merge and develop a very distinctive look and style.
WurlD's style is edgy but simple, he does what feels right! From cyan hair to futuristic looks and outfits, the Nigerian-born singer-songwriter knows how to craft a cohesive image. WurlD released his brand-new EP this year called "My WorlD With U" which features nineteen tracks, his versatility as an artist is evident and you can clearly see this just by listening to the different tracks on his new EP. His creation of new age sounds fused with substance and emotional depth will intoxicate audiophiles & casual listeners. The Afro-Soul artist is looking to go on tour in the future and he has promised to bring the energy, the vibes, the soul, and the killer vocals to the big stage.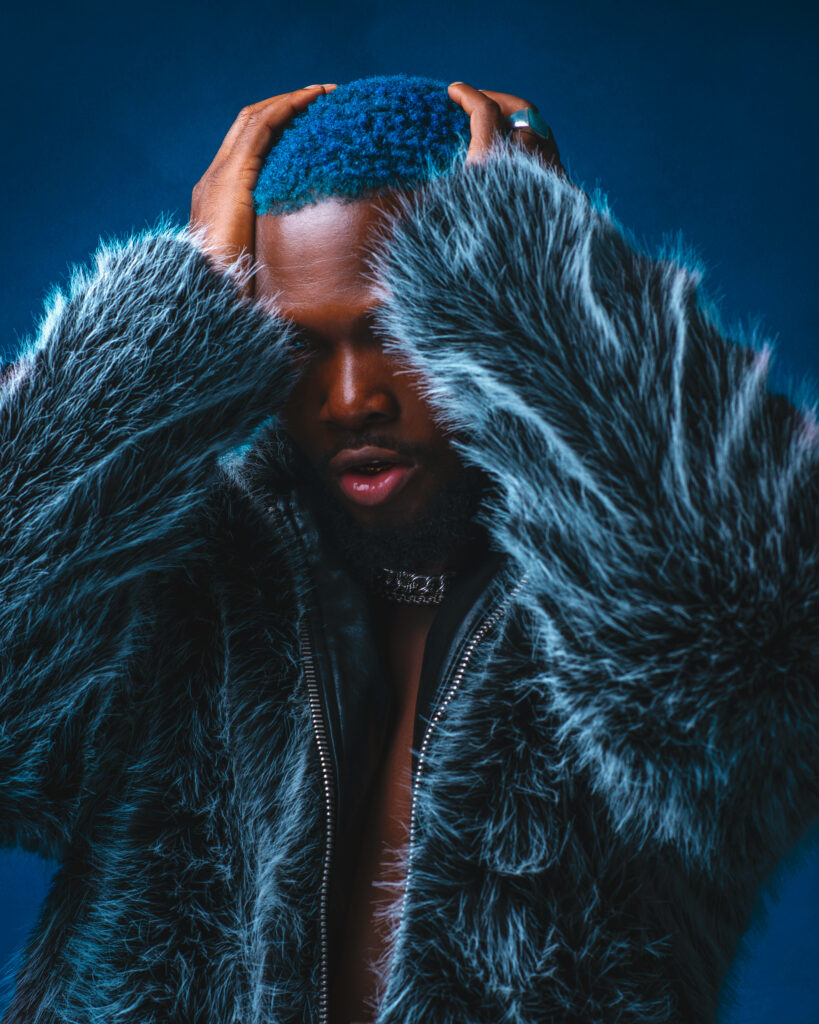 INTERVIEW
Ahead of the release of his new album WurlD sat down with ASBO to discuss his upcoming work, new tour and why the best of him is still yet to come…
You have had so many big achievements already in your career, do you ever take the time to sit back and reflect?
I feel like I still have so much left to do and give so I am really trying to stay in the now and keep creating magic now.
So, you have recently announced your new album 'My WorlD with U' . Tell us a little about how that album came to be?
So, the new album is really defining my name. Many people ask me why I spell my name WurlD with a U. It is because all my shared experiences with my fans, friends, family, all the places I have been have all influenced who I am today. So, this album is my world with U! My struggles, my relationships, my flaws, my success, my everything, this is me sharing my world and how I see things and how I have grown, it is all with 'U.'
The album I recorded over the last two and a half years. It documents my struggles and my personal growth. I actually had a mental breakdown in 2021 for the first time ever, and it was very scary and made me realise what some people go through every day, thankfully I was blessed enough to get out of that place. But from that I created some songs which I hope to inspire and help others with.
Because we're not alone, and it really helped me shape this album, realising the conversations that I need to put out there. I hope to inspire with this album, to cry with my fans, to laugh with them and to inspire and be motivated at the same time. Because sometimes you have to break down to come back up. So, it's okay to feel the pain, to go through it. Because when you come back out of there, it's so much better.
Do you have any advice for people who are currently going through a tough time?
My advice is to go towards love! Wherever that may be. Try to also discover self-love and not depend on someone or something else to feel human. Also, be patient with yourself and allow yourself to feel the emotions.
Did you find it was extra difficult to discover self-love whilst working within the music industry?
Yes, it is really difficult because everyone has a motive. The only time the industry loves you is when you are on top. On my last project 'Ghost Town' I discussed how when you look around when you are no longer on the top, everyone is gone. So that is why you have to share your truth every time, because that is all you are left with in the end!
Amen! So now back to your new work. You recently released a single titled 'Let you down,' tell us a bit about that single.
It is about me being flawed and letting my partner down with my actions. It is about her doing the exact same thing to me and my ego being bruised and not being able to take it. It is just me being very vulnerable on this one and sharing exactly how I felt.
What was the reason for selecting this song to be one of the first releases from your new album?
I felt like it was the first of its kind. I was able to sonically fuse Afro beats with hip hop and R&B. I wanted to show what a new age African artist can be. I am so grateful that people have accepted this song.
What has the reception been like for the track?
It has started a lot of conversations, which is something I really wanted out of this. It shows what really happens in society and it is just me in a whole different space, being vulnerable.
You have also recently released another track 'Sad Tonight' tell us about the inspiration behind that track.
One thing I did on this album was to fuse songs in a conversational and narrative way.
'Sad Tonight' is a continuation of 'Let you down.' So now we are both wrong and a lot of times when that happens you need space. So now I'm home alone wishing that this could be fixed and now that I'm calm, I want to have a conversation and I don't want to go to bed sad tonight.
That was inspired by the idea of waking up in the morning with heavy thoughts from last night's conversation that was unresolved with my partner. I feel like a lot of people in the world can understand that conversation if you have ever loved or cared about someone.
So, you have mentioned that on your album it takes a listener on a journey. So, when you were creating the album did you order the songs with that in mind?
I recorded over one hundred songs. When it came to choosing the songs, I chose records that have a story and that really told the story of my last two-and-a-half years. I had to leave out certain records that I knew would do well but that didn't fit the narrative. Once I decided what my purpose was it made it a lot easier to pick the songs. I wanted each song to make sense as a body of work.
Looking ahead and your tour is upcoming. Are there any stops that you are most excited for?
I feel so at home when I'm in London but there are also some other places in England that we are looking at visiting. I am also doing a show in Paris and then a European Tour and then we're also heading to Africa and the US.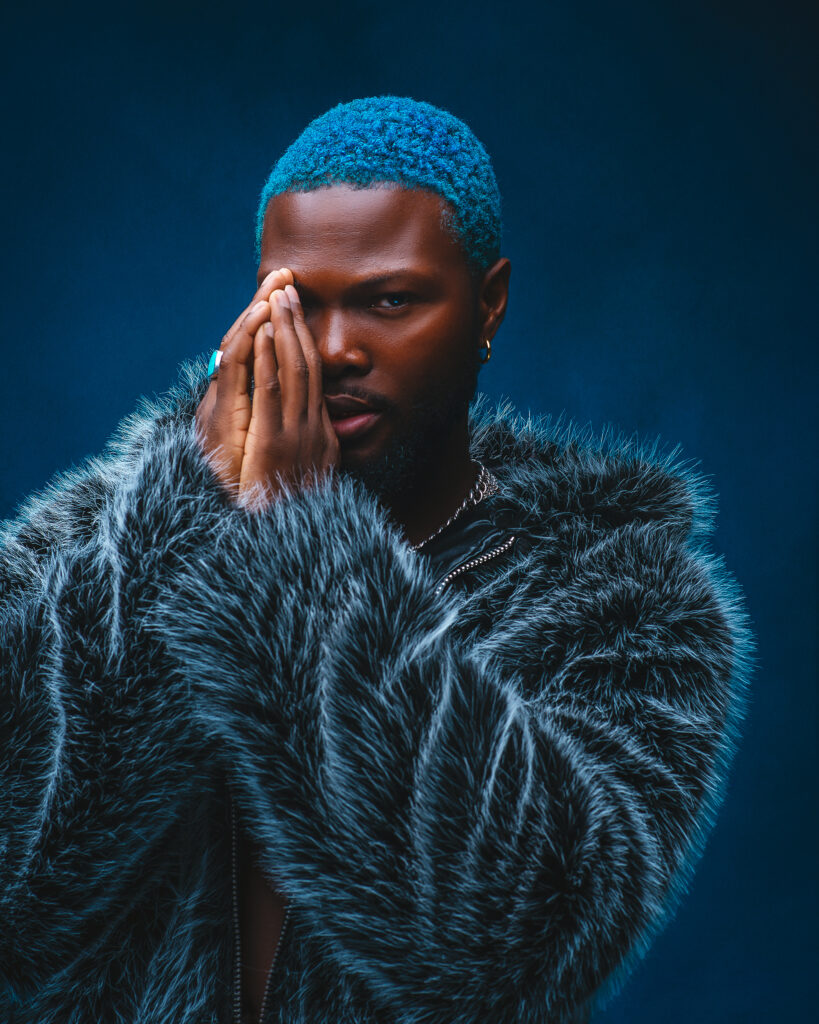 What piece of advice would you give someone who Is a bit lost and trying to figure themselves out?
The only thing you can do is trust your true intention. that dream that you had no one else saw that made you feel alive. Don't ever lose sight of that and also keep yourself in loving places. Go wherever Love is. surround yourself with it then you can never lose yourself because they will appreciate you as you are.
Finally looking into the future, where do you hope to see yourself?
Beyond music I want to inspire people's lives and change their lives. I want to do work for Humanity, for the world and be a game-changer in this world.
IMAGES: Muktar Onifade