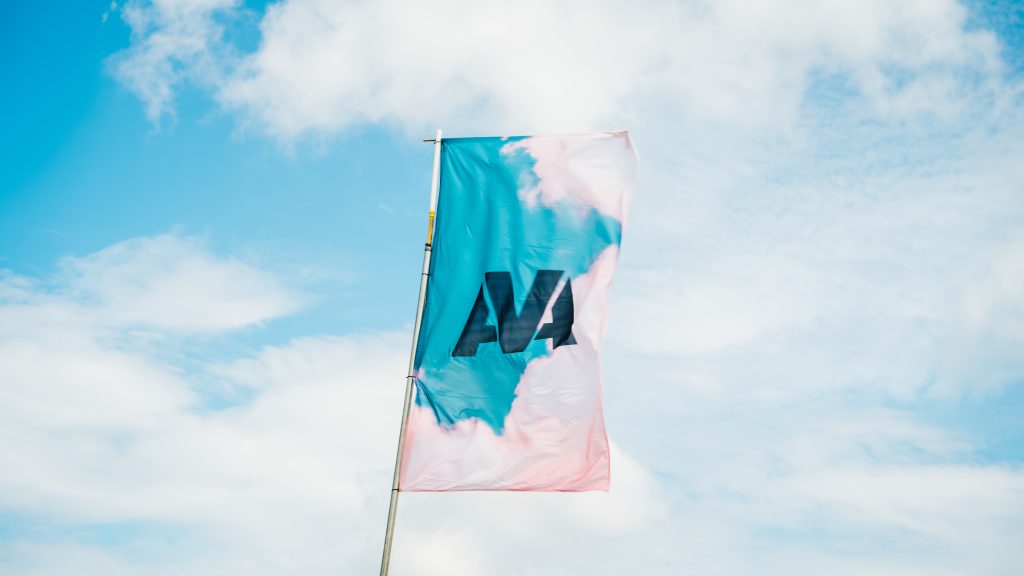 Located on the iconic Titanic slipways against the dramatic backdrop of the Samson and Goliath cranes, crowds were treated to two days of electronic music and spectacular visuals. Now in its eighth year, AVA (Audio Visual Arts) has been described as one of "one of Europe's smartest young festivals" by industry kingpin Resident Advisor
Discussing the festival's origins, event organiser, Sarah McBriar said: "I knew there was a lot of talent here, I was really aware of that. "For me, I think Belfast and Northern Ireland lacked a more creative festival that was more focused on bringing new talent and international acts and platforming them on multiple stages.
"I think everyone underestimates how much time it takes to organise a festival, it always blows people away, it actually takes a year… It's a combination of us approaching international acts and them approaching us — sounds and artists that we want to build into the lineup and constantly evolving what we offer."
Spread across four distinct stages, with craft drink and food options, AVA festival is a far cry from the one-off events Belfast crowds are accustomed to. This year's line-up welcomed an increasingly diverse roster of international and local performers.
Friday's event saw the likes of Logic1000, Special Request (aka Paul Woolford) and Ross from Friends play alongside emerging local acts Carlton Doom, Caoimhe and Kessler, to name a few. Leeds-duo Prospa made their Boiler Room debut on the Nomadic stage, effortlessly working for the excitable crowd
Belfast partygoers sweated in delight as they played some of their biggest hits including "Ecstasy (Over & Over)", "Prayer" and "Want Need Love".
Father-daughter act, Floorplan (Robert & Lyric Hood) continued the party at Nomadic with their euphoric set, mixing gospel, disco, funk and soul with a Detroit edge. The duo danced between Bob Sinclair and Candi Staton before treating the audience to some of their stellar original material.
Closing the first day, hometown-heroes Bicep took to the main stage. This was their biggest Belfast show to date after finding worldwide success and the dance duo didn't disappoint.  Striking lighting complimented the energy of their set as thousands of festival-goers screamed in excitement. Tunes like "Glue" and "Apricots" have become unofficial anthems of the city in recent years and were ecstatically received.
Saturday's event proved even more popular as diehard locals gathered around The Baltic stage, supported by BBC Sounds, to see the very best of Irish talent showcase their skills. The likes of Timmy Stewart, Holly Lester, Twitch DJs and Inside Moves wowed party-goers, many of whom have been enjoying their club nights and events for years. Over on the main stage, Grammy-nominated electronic musician Mura Masa brought a surprisingly high-energy set. Aided by two female vocalists, his lowkey, ambient tunes took on a new lease of life when amplified.
BIIG PIGG and Enola Gay added to the eclectic range of sounds at this year's event whilst industry heavyweight Jon Hopkins treated the Main Stage to a polished performance with tracks like "Emerald Rush" and "Baby, We're Ascending" complimented by immersive visuals.
Elsewhere, TSHA and Belfast-born Mark Blair made their Boiler Room debuts.
Hot-tipped by the likes of Annie Mac, NME and Billboard, London-based TSHA has found massive success in recent years with standout-tracks "OnlyL" and "Giving Up"
For her AVA performance, crowds were treated to a fire set as she mixed the likes of Francis Mercier, Might Mouse and Groove Armada, a slick performance from this rapidly-rising star.
Mark Blair's set was high energy and firmly tongue-in-cheek as he mixed the likes of Cascada, Kanye West and Showtek, delighting the boisterous audience. This is a man who's earned his stripes across the city's techno scene and the crowd's support couldn't be more evident.
Speaking before the festival, Mark said: "A Boiler Room set is something that all producers and DJ's dream of, ever since they buy their first set of decks. I've been to every single Boiler Room stage at AVA since the festival began, dreaming of one day getting the opportunity to play. 
"One of my worst fears was being offered a BA set, but in a different country or city. I think I would have had to refuse and hope that I'd get to play the AVA Boiler Room one day instead. It gives you the opportunity to showcase your music on the world stage and is a right of passage for any aspiring DJ. I just hope I don't blow it."
It's safe to say, he didn't.
Words by Matt Fox