This article was originally featured in ASBO MAGAZINE; Issue 10
Give a man a mask and you see his true face. Give Lynks a stage, let the creature move you. This he she they is making big bad bitches on a daily basis. Humour is her saviour and he's a colourful heretic.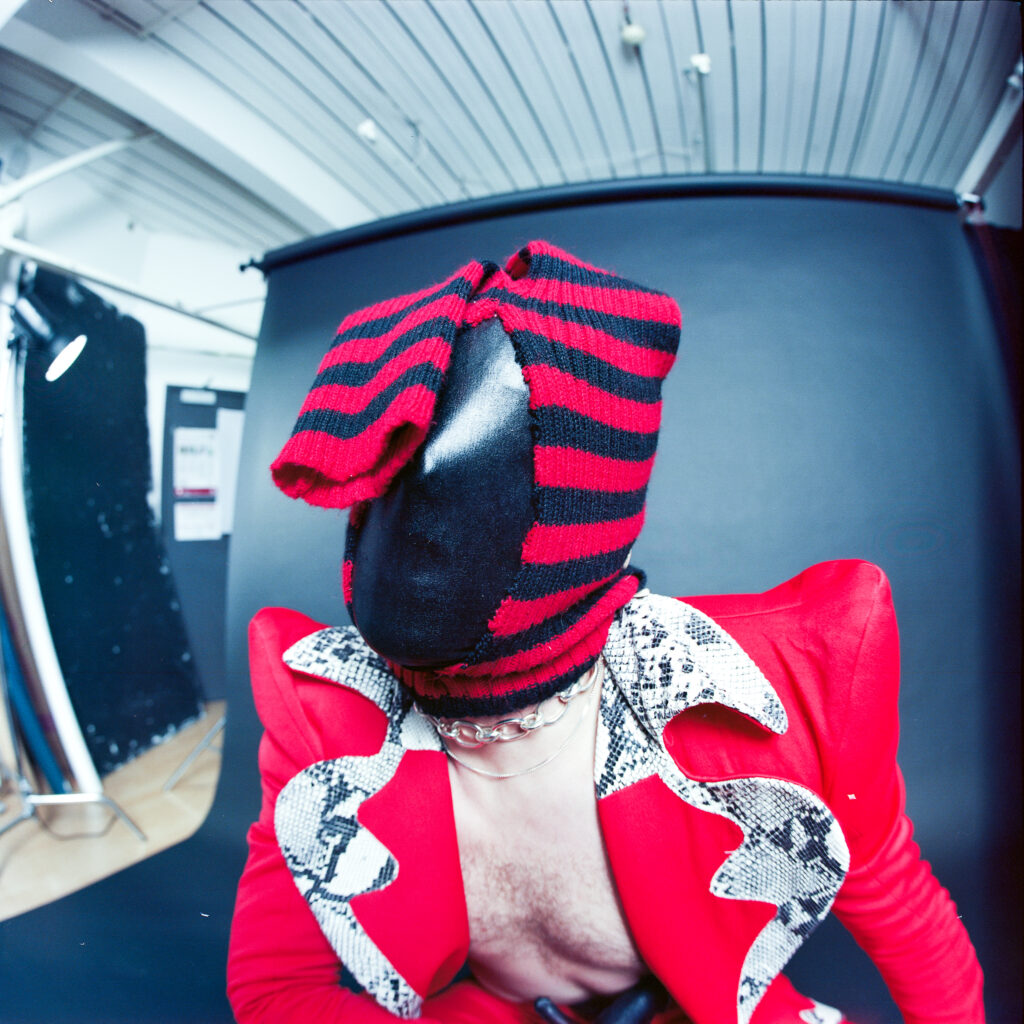 Take a look at Lynks; YouTube full of her motions. Bodies get thrown around and wasted like the stars. Green screen liberation. Sock puppets give birth to the hole in the mask telling society to eat itself the fuck up. Beat goes like BOOMF  BOOMF. Lyrics are spoken, basic bastard deconstruction on his surroundings. AND THE OUTFITS OH MY GOD THE OUTFITS.
It's all tacky and it's real cool. Catchy and functional while corny and fuck shit all. In your face artistry shines through and makes some special feelings. Just like that, Lynks becomes a queery quirky piece of forever. Hard to believe the creation here in the studio was once a cute 'lil indie singer.
"I was making Garageband crap concoctions and wannabe James Blake sadboy shit from age 16. I churned out crazy electronic dancey things on the side. Oh lol look at these stupid beats. One night my friend was putting on a show in his basement, do you wanna try do something with those funny beats? I painted my face and got wrapped in bin bags. Best gig I've ever done."
You won't catch Lynks removing her face to reveal the fleshy human underneath. (Only mouth allowed) I cannot picture the guy with a dorky haircut who turned up for this interview flying and flailing like the one called Lynks. But it all makes sense when masked up, black holes for eyes.
"You're not risking your own ego, you're not worried about people thinking you look stupid because people don't see you. I used to do shows where I'd call up my entire list of Facebook friends, have them masked and dancing behind me in exchange for drinks. They'd do the most heinous acts of depravity. My friend who's normally very shy like really sweet, I look to my left halfway through a show and she's got a pineapple skewered it on a spike, shoving it in audience members faces. It definitely does unleash some of that stuff bubbling under the surface."
His shows are bigger and brighter now, choreography and all. You'll even catch Lynks playing Birkenhead! Scan through Youtube to see the style develop. Deeper feelings and more daring presentations, artsy collabs in every direction. Let's talk more mask please thank you;
Have you snogged anyone in the mask?
"I have yeah, which was consensual. It had a mouth hole which helped. I wasn't just pressing my breathy fabric against their mouth."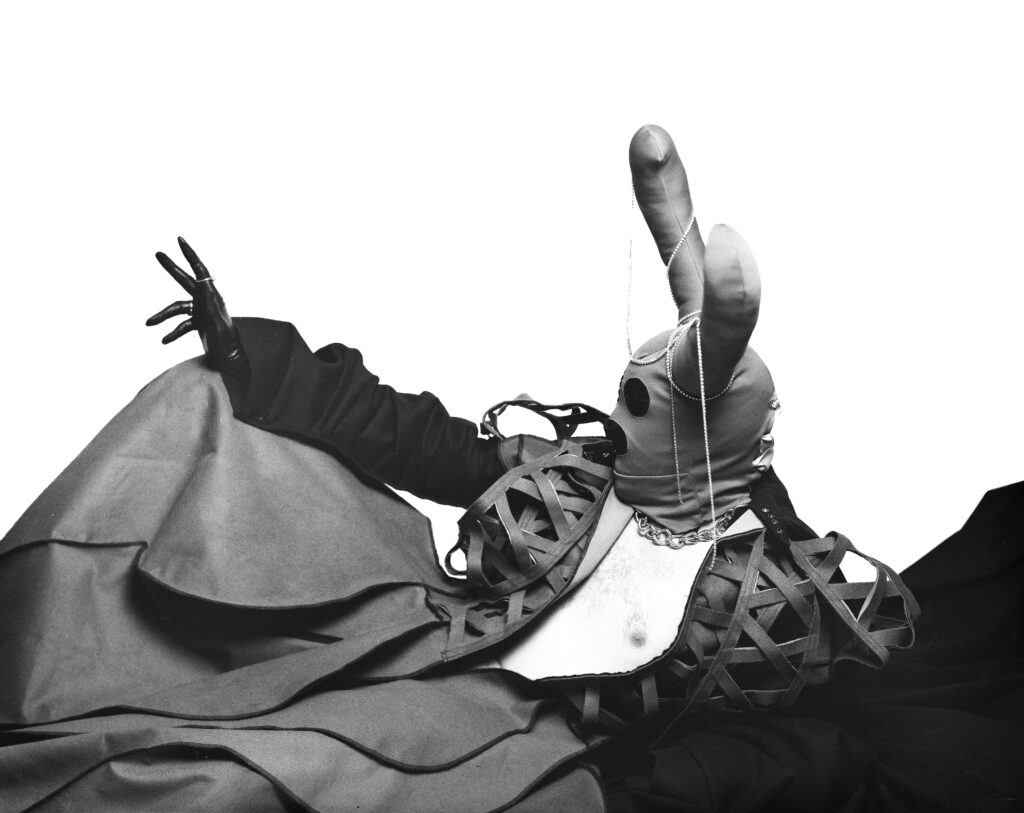 Is there anything you can't do in the mask?
"Oh yeah, use an ATM machine, use my phone. Face ID is a nightmare. That's why I can't do Tik Tok. I'm always like, I guess I should make a Tik Tok because I'm a fucking musician. That's what we do now. And then I try, I get like to the lock screen, I'm like fuck this. I break my phone."
Does the mouth hole ever come in handy?
"I feel like I know what you're trying to ask me. You're trying to set me up for something. And I'm not gonna go there."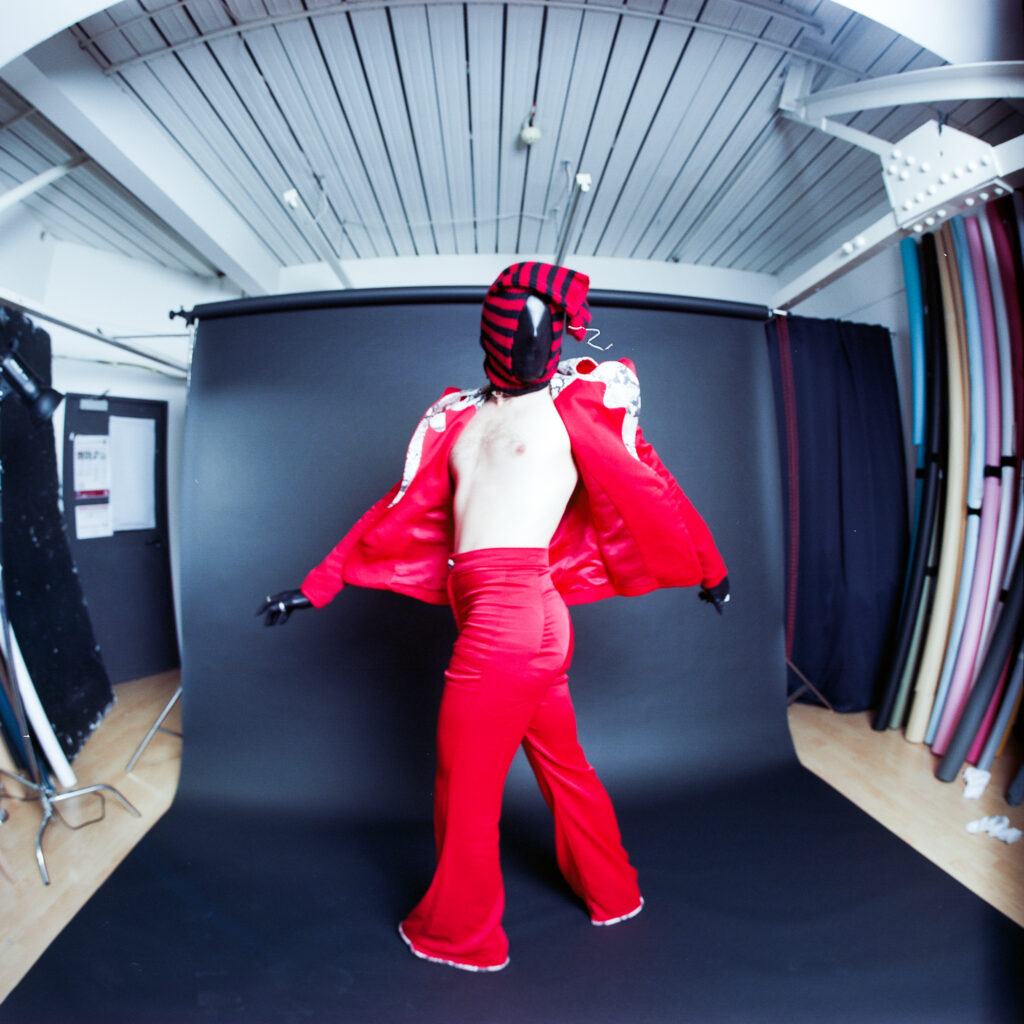 Any issues with wearing a hole-less mask?
"The funny thing is, I found out you can actually drink water through fabric. It just feels terrible. It feels really bad. But you do get hydrated."
ENOUGH META. That's a wrap, check Lynks in the usual places and in the stinkiest venues. We recommend their latest EP 'MEN' below. Bye bye see you next time 🙂
Words + pics by Max Auberon
Further pics by Sebastian Garraway
Styling by Adam Martin
Fashion by; Ray Chu, Maximillian Raynor, Alvaro Mars
Thanks to Sum Other PR