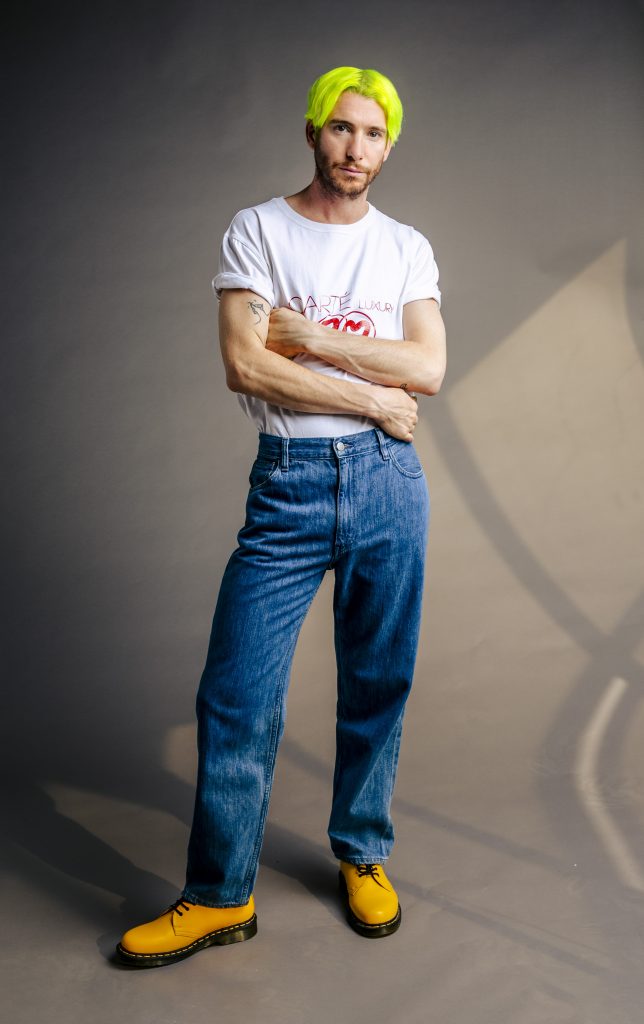 Storming the scene armoured with a neon heart on his sleeve, ABSOLUTE. is rewriting rave with a mission to empower unapologetic self-expression and absolute inclusion.
Uprooting the UK electronic underground scene in a swathing tornado of "BIG NEON ENERGY", the ABSOLUTE. experience has been electrifying smiles and lathering sweaty bodies across the globe this summer, in an unruly but perfectly conjured alchemy of kilt-flapping rave anthems and ultimate joy. The queer clubbing champion's euphoric sets have catalysed souls across countless iconic festival stages and venues including Glastonbury's Shangri La Gas Tower, DC-10 and Printworks, to name a few.
In the wake of a hiatus from human connection, Anthony has truly forged a space for belonging this summer — turning the famous phrase "lose yourself to the music" on its head and encouraging crowds to truly find themselves in his seventh heaven of sound. In his glorious vulnerability, Anthony is an inspiration for the LGBTQI+ community as he continually lays bare his story and takes to the stage with an unbridled driving passion to show others that family can always be found.
Not only has Anthony formed such a vital space of belonging and collective freedom, but he has galvanized the next generation of rave with masterful artistry. His bumper BPMs, HI-NRG Breakbeats and romping House edits are rooted in great attention to detail to the deep-seated history of the dance. Influenced by vital epochs and pockets of culture from the 60s Harlem Ballroom scene, Detroit techno of the early-to-mid 80s, to the modern house era tumbling out of the late 80s and into the forgotten queer scene of the 90s — Anthony has carefully crafted a contemporary sound loaded with sonic chronicles of tradition shifting and convention lifting that echo his vision for the future — a genuine cultural awakening to diversity and inclusivity.
Sitting down with Anthony only affirmed his natural authenticity. His emblematic beacon of bioluminescent hair definitely illuminated the Zoom screen, but it was his bundles of honest energy that proliferated with a truly infectious light to steal the show.
Your summer has been rhapsodic, to say the least! Let's start with 'Stuck In Love', there is definitely a clear sonic evolution between this record and your previous work, is there a story behind it?
I think for me I've always been quite conscious of evolving my sound and not wanting to be pigeonholed into one genre. I guess I like to try and create moments where I make music that will not be cornered into any one sound. I always wanted to have a live show so I don't want to be stuck in the club scene. Obviously, that's where I come from and that is my core — where I've grown as an artist. It's important to me to tap into present feelings, whatever I'm really excited by at the time. When I was writing 'Stuck In Love' I was listening to Detroit electro, I wanted to take that Breaksy sound and freshen it up. A lot of breaks have been done already. That bassline gives you that bit of fun so I built on that sound bringing in an element of pop and it all came together. I wrote the track a year and a half ago with these amazing twins who were the original vocalists. Then after touring in America for the first time, the lyrics hit me differently and were speaking to what was happening in my life at that time. Life was imitating art, bringing the record back into my mind and it really felt like the right time to put this out.
Let's talk about your live show, how is that piecing itself together in your mind?
I guess I have already done a version of it when I was touring with 808 state, it was my first live show and during the middle of lockdown so it was seated in Islington assembly hall. It was a slightly different format because of course no one could get up on their feet. But it was literally one of the most energetic chaotic gigs I've done, as soon as I got on stage it filled me with so much joy. It feels so different because I know I can just go out and smash a DJ gig because I've done so many and that's where I'm in my element. Doing something live is a whole new challenge and to get that kind of response really filled my soul, especially at that time — it was so fucked and no one had a clue what was going on in the world. I learnt a lot and next time it will be more refined. I want to do a live show once I've got an album project and curate it with that in mind, bringing together the right visions with every piece of the puzzle in place. It's a constant evolution.
What motivates that evolution for you? What motivates you to get up on that stage?
It's such a funny thing. A couple of weeks ago I was playing at a festival called Beat-Herder. I woke up and I just felt so run down and completely exhausted. But as soon as I got up on that stage it was the best I had ever felt in my entire life. As I was playing I just felt that this is what I'm here to do. This must be my life purpose. I felt so much joy and I could see that I was bringing so much joy to everyone at the festival — it felt like we were all connected as one. It was this beautiful moment of true joy. From then on it has felt like this is what I'm meant to do. That feeling inspires me. It doesn't happen at every single gig but it happens more often now, that is what drives me and motivates me one hundred per cent.
What a way to launch into the sweaty season of festivals and club floors — from Glasto to Warehouse Project. Talk about some of your highlights and what you're yet to look forward to!
Glastonbury was honestly one of my most magical festival experiences. I know everyone was banging on about it but it was just incredible. I got to do an essential mix which was a career highlight and it went so well and truly added to the whole experience. Everyone was so excited to finally be there and there was a huge build-up, it definitely didn't disappoint! It was magic.
The gas tower as well… What a stage!
Iconic stage! The crowd is just so ready. It was definitely one of my highlights of the year. There have been so many highlights! Getting to play on the Terrace at DC-10 in Ibiza for the first time was incredible. In terms of crowd reactions, playing in Ireland has been one of the highlights for me. First off, I did a Boiler Room there and it was the first time my dad had come to see me play (my dad and sister live over there). It just felt like the crowd and I was on par with rowdiness! Sometimes I go to a gig and I'm the most energetic person there, but in Ireland, they're just straight up there with me, if not more, and I just go in! That's the best feeling to play to. It was special for my dad and sister to experience that with me, that moment was what I had been working towards for so long. Especially growing up and trying to do something that's different in a small town, there aren't many people who have done that from where I grew up. It's really beautiful down there but Torquay is not exactly at the height of creativity… Growing up there as a queer kid, even though I grew up to dance music I just never ever thought it could be my career. I'm sure nor did my parents. For them to come and see it just made it extra special.
I would love to delve deep into how you view your role as an artist. I feel you truly see that undertaking this role comes with a responsibility to your community. What is your mission as an artist and how does this fold into your dreams for the future?
I think for me, it's just about being human. It's about wanting to do something positive in life because really, we are all here to build each other up. That is the best way to be and that is how I am — first and foremost — and that will always feed into who I am as an artist. One of the tools I have to create a positive impact is music or creating club nights, so it feeds into that. Above all, it comes down to who you are as a person — being an artist elevates that and gives you more tools to create and make something better.
What does community mean to you and how important is it to navigate and engage with different communities including your own?
For me, when I found the East London queer scene that was the moment where I felt like I had found my family. It is so empowering to have that. For anyone who is growing up in a small town, especially someone that is in the queer minority, you don't necessarily have that feeling of belonging when you grow up. Some people get it through their family but actually when I found that queer scene it was so empowering, belonging is liberating and makes everything feel possible when you have that community around you. That is why it feels so important to me and why I always strive at all of my gigs to make sure they are inclusive and everyone feels free and liberated. Not only is that going to create the best possible experience for everyone but that is when the best parties happen, that's when the magic happens… It's better when everyone is included.
Collective belonging is so integral to being human…
For sure, especially as a queer kid. People find their family. People who aren't accepted by their family find their chosen family on the dance floor. That is so powerful.
How would you describe the epoch-making essence of rave culture and how do you envisage "rewriting the scene"? What is it that you're setting out to change?
When I was growing up in Torquay there was one club called The Monastery, it opened at 12am, it was in a converted church and the DJ booth was at the altar. The town I grew up in was not exactly super queer-friendly but it was the rave scene that first brought me into a space where I felt safe to be who I was (even though The Monastery wasn't necessarily a queer club). That rave ethos of "everyone together" really feels part of my DNA and part of my core. It was mind blowing at the time, and so liberating. That sense of belonging has always been something that I want to champion and push forward. Rewriting it now — the future is inclusive. The question we need to ask ourselves is how do we continue to push that forward, how do we make sure there isn't anyone left out? How do we make everyone feel empowered to be who they wanna be? Because they've got every fucking right to be that person! Who the fuck is anyone else to say that they can't be that! So for me, that's the future of the scene, making it as inclusive as possible.
What would be your dream location and setting for an ABSOLUTE. underground rave and how does that translate into the atmosphere you strive to create in the space?
We've had so many mega raves in those traditional dance spaces, whether that's in a club, in a warehouse or at a festival — and I love those! But I'd love to create something on a paradise island where we're in our own utopia, immersed in nature and surrounded by beautiful scenery. We'd jump in the sea and there'd be bioluminescence, the sea would be neon! Some friends of mine do this retreat in the Philippines, it's incredible, they do these trips around the remote islands and they've worked hard to build a beautiful community. They have an eco farm and have also started creating a space where they're going to do events, so maybe that's the spot. That is on the cards for me, to create a space of pure euphoric paradise.
Which records are you digging into at the moment? Are there any new artists out there who have caught your ears?
When I'm playing I love a mixture of old and new. There's amazing big energy hard House and Dance records from the early rave scene that just seems to really resonate again and everyone's craving that big energy right now! Out of everything I play, those records always resonate the most, everyone just wants that release. I'll play a super cool underground set and then slide in a couple of those older big energy tunes and I can feel how much the crowd are craving that energy — it's so fun to play too! So I'm playing a mix of some of those, in the realm of that fun and liberating sound, DJ Heartstring is really great to play and DJ Daddy Trance is super fun. Then mixing with some newer artists like X-Coast, also Hard Ton have got a new album they just sent across to me which I'm really enjoying — they're a queer collective from Italy that I've worked with in the past who are amazing. Manami is this wonderful DJ from Bristol, she's just started putting out some really nice music, I've just got a remix from her that I'm loving on my friend La La's label called Brand New Records. I'm really drawn to big energy stuff at the moment, so it's just about getting that balance between new music and some of that older peak euphoria stuff. 
Let's talk about your dream collaborations…
It's probably the queer kid inside me but I'd love to work with Robyn — that's my big gay wet dream! Also, Honey Dijon just did that collab with Beyoncé which was really powerful and I love how Beyoncé is shining a light on the forgotten queer scene of the 90s where so much culture originated from. Then I guess going back to people who really inspire me like Thomas Banglater from Daft Punk when I was growing up I was super drawn to the energy of that sound. I'd love to do something with him. There's loads of other new artists coming through that I love like Sally C, HAAi — there are quite a few other artists I'd love to stuff with. Big female energy!
What does "BIG NEON ENERGY" mean to you and what is this energy telling us to do?
It goes back to when I was saying how I played the other day and even though I felt like shit I just came alive with that feeling of being at my peak state of happiness. It's the apex of joy and liberation where you can just unapologetically be who the fuck you want to be in your own moment, where it's not offending anyone… well it probably is actually! They should be offended! BIG NEON ENERGY is telling you to find your peak moment of joy!
What do you want your legacy to be?
If I can create as many moments for people to be at their peak joy and if it creates a positive impact on the world whilst doing something I love — that in itself feels like a life purpose and a job well done. It could be as simple as that and hopefully, as things grow, it happens for more and more people and creates a positive impact, whether that's on the planet or individually or as a whole. A chain reaction of joy, let's get this moving people! With a couple of twirls here and there!
You can hear more from Absolute over here and on spotify.
Interview – Alexia Radkiewicz
Photography – Karla Lizethe Hunter
Stylist – Kudzai Chibaduki
Wardrobe – Carteluxe
Styling team – @Bryony.Salter , @Glodzz_