Goldsmith Vintage and Rough Trade are extremely excited to launch their collaboration with Brighton based artist and visionary Elliot Snowman. The limited edition range of preloved tees and sweatshirts has been transformed and revived with designs exclusively curated with Snowman's authentic style and attention to detail. They have cleverly incorporated the artist's eye-catching tiger motif with Rough Trade's and Goldsmith Vintage's logos. Each piece is similar but unique in its own design with every garment being part of an exclusive 100 part capsule, each having its own identity tag to confirm its authenticity and rarity. The whole project is heavily influenced by the cultural interplay of vintage fashion and independent music, fusing together the natural overlap of these two popular scenes.
Emily Waller, Head of Brand and Content at Rough Trade comments:
'Like your taste in music, vintage clothing allows you to explore and express your individuality. Curating a collection, be it a music library or eclectic wardrobe is a highly personal exercise in self-expression, but something that also allows us to connect with others and indulge in local, community-led independent stores. Like Rough Trade, Goldsmith Vintage have a passion for the communities they serve and look to promote the longevity of the product they sell, so that it might be cherished for years to come, often preserved in happy sentimentality.
We are, therefore, excited to join forces on this project, combining our great love of the physical music format with quality pre-loved clothing and the creative cool of artist Elliot Snowman.'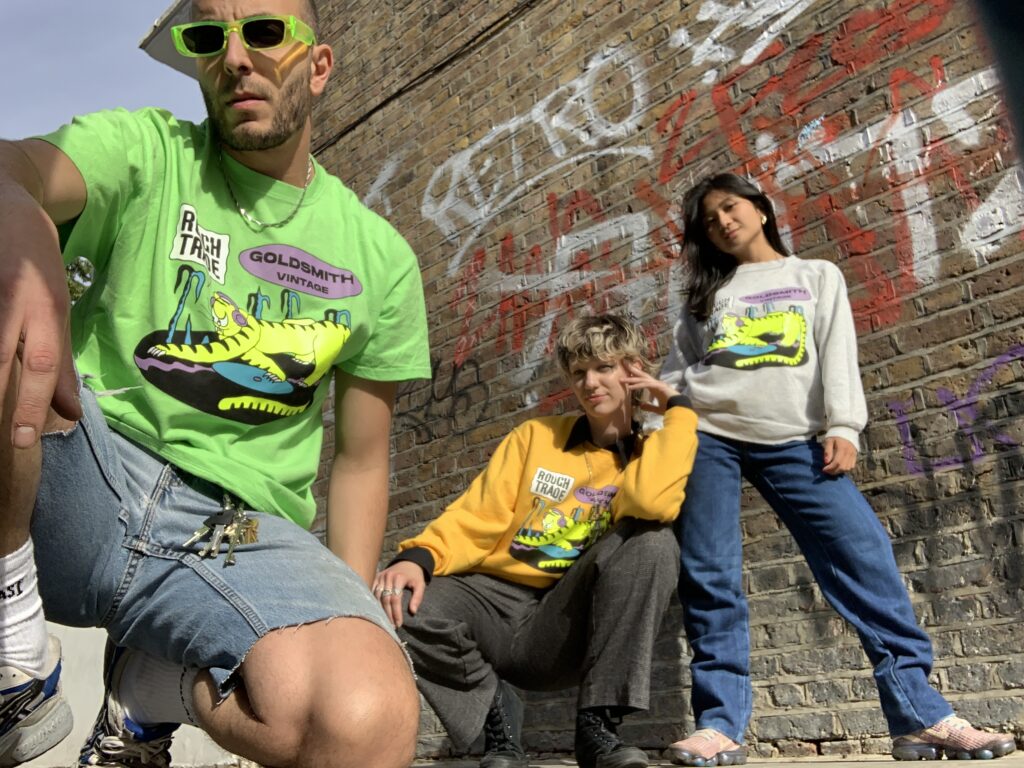 This bespoke collection will be available in Rough Trade and Goldsmith Vintage stores from Thursday 7 July and you can follow Elliot Snowman on Instagram @elliot_snowman to check out more of his work.
The limited-edition collection will be available from the following stores:
Goldsmith Vintage – 176 Portobello Road, W11 2EB
Goldsmith Vintage – 57 Neal Street, WC2H 9PP
Rough Trade West – 130 Talbot Road, W11 1JA
Rough Trade East – Old Truman Brewery 91, Brick Lane, London E1 6QL
Retail prices
Goldsmith Vintage x Rough Trade T Shirt – £35
Goldsmith Vintage x Rough Trade Sweatshirt – £60
Words: Jules Corsini