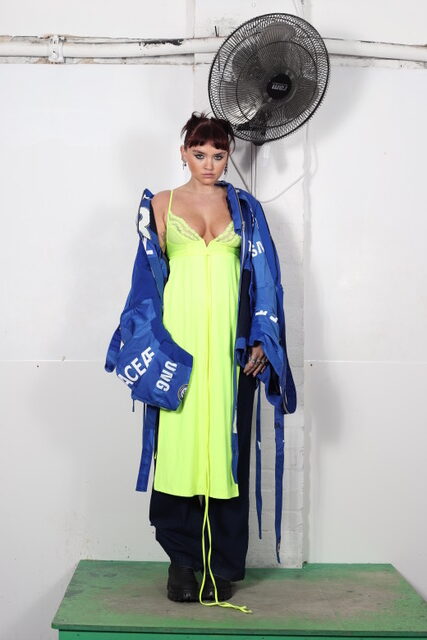 This shoot was inspired by frequently going to The Loft this year with my best friend. We have formed a community of friends of like minded people there and I have had some of the best experiences post-lockdown in the place. The boys behind it are really lovely and they have come up with so many concepts such as 'Animal Crossing' and 'After School Club', where adults come together to forget about the mundane of everyday life. It has really got me thinking about how far you can push a concept and the outcomes you can create.
Me and my best friend Usman always go dressed up and we dance on the platforms to the side of the club, we act as if we're paid dancers! We both feel a sense of freedom there. The Loft typically attracts a bit of an older crowd, who aren't really in to fashion, which is why we stand out so much when we go, but we treat it like a fashion show even though we love the music.
Both my parents were 'ravers' and going to these events have given me and a lot of my friends a purpose. When i was 17 I would use my aunts ID and spend all my money on funding new outfits and getting my make up done. Going to raves became the only place I felt free.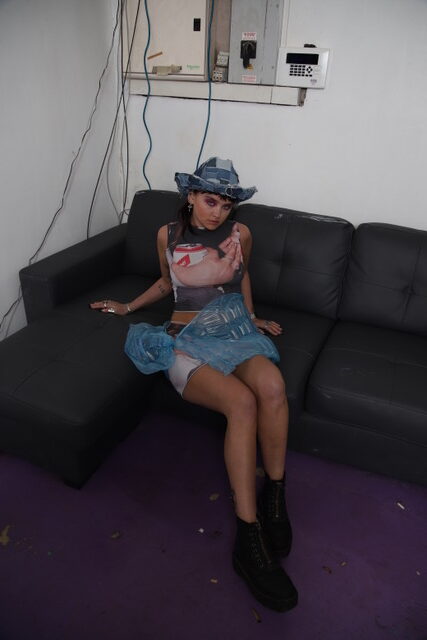 After loosing my mum during Covid, I felt like i had lost all my spark, but after attending my first event at The Loft in October, I felt as if i had found a new place where I could have fun and put aside my grief.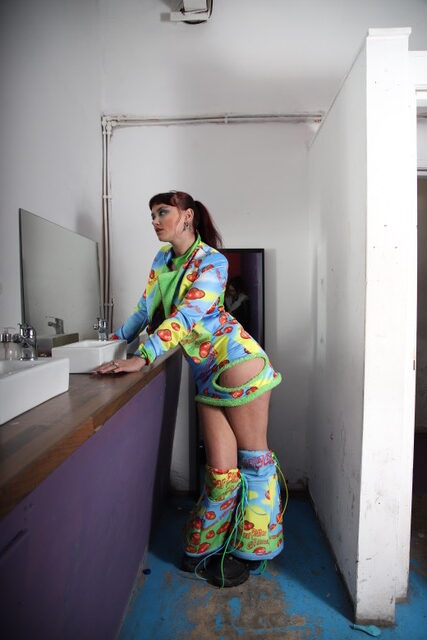 The shoot is about being lost in Raves and how they unite people. I have followed the narrative of my typical night out in there, whilst exploring rave styling on my model and how expressive that can be. People transform in raves. You can play around with dress up and test aesthetics you wouldn't feel comfortable wearing to the shops. it becomes like an art. Me and my friend's plan our looks for weeks, often borrowing off each other or buying from Independent businesses, which I chose to represent in the shoot. My model, Jessica Davies, is meant to represent a star in the rave and how raves give you a platform to be whoever you want.
Photography / Styling: Gracie Brackstone
Photography Assistant: Jack Smith
Styling Assistant: Nina Kolomits
Model: Jessica Davies
HMUA: Kelita Frances
Location: The Loft Manchester
Fashion
Image 1: Jacket – Liliaceae fashion, Top and skirt – Elsie and Fred, Jeans – Liliaceae fashion
Image 2: Co ord – Nuclear planet
Image 3: One piece – Nuclear Planet, Dress – Lima Rosa
Image 4: Top – Lima Rosa, Skirt – Shop Keziah, Leg warmers – Lima Rosa
Image 5: Top – Amelia MT, Skirt – Liliaceae fashion, Jeans – Miss Sixty
Image 6: Two piece – Amelia MT, Hat – Nina Kolomits
Image 7: Top – Lima Rosa, Skirt – Shop Keziah, Leg warmers – Lima Rosa
Image 8: Jacket and dress – Laura Houseman design
Image 9: Co ord – Nuclear planet
Image 10: Two piece – Laura houseman design, Top – Juicy Couture