Santa Cruz Skateboards has been at the forefront of skateboarding style and skate-inspired style since its inception in 1973. The spring 2022 collection extends an almost 50 year legacy of taking striking graphics and overtly eye-catching designs and transcending from its home in the skate scene onto the wider style world for everyone to enjoy.
Alongside familiar styles and favourites like the 'Classic Dot', which first emerged in 1978 and various rebirths of Jim Phillips' now-legendary Screaming Hand graphic, timeless styles and cuts are reinvented by introducing new graphics and colourways that create memorable clashes.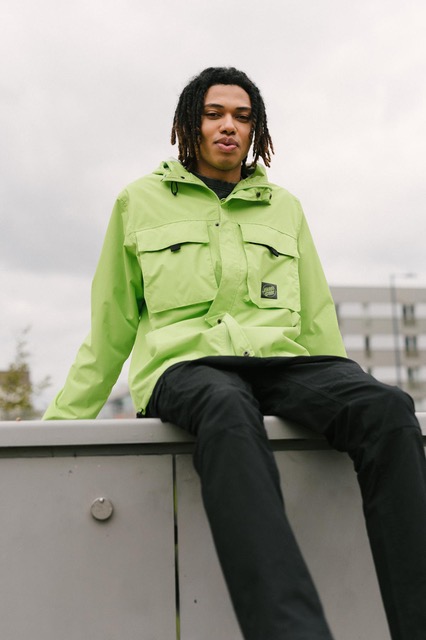 Highlights in the collection include the Unite Hidden Hand jacket and its screaming hand-printed twill, which take a clean-cut style and give it that unmistakable Santa Cruz touch. The toned-down retro colour blocking on the Castle Rock Jacket and Ridge Vest is right on trend with a utility styling.
Short sleeve Cuban collar style shirts come back in strong with an electric pink Broken Dot shirt, and from the Organics capsule, the Cabana Shirt with a tropical leaf/screaming hand graphic fusion. The standout has to be the Advertising shirt which has dived into the archive of the Speed Wheels capsule for inspiration. This capsule specifically celebrates the golden era of the Jim Phillips Studio and Santa Cruz Speed Wheels from 1985-1991.
On the flip side of these eye-catchers are wardrobe must-haves like the Classic Work Pants and the baggy oversized Local Pant, available in various colours, which when worn casually or dressed up are obvious spring picks. T-shirts are abundant, from the Classic Label and Classic Dot to various new logo reworkings.
Santa Cruz's boardshorts and swimshorts take centre stage when temperatures start rising. From the subtle Classic Dot Swimshorts to the in-your-face Camo screaming hand boardshort, those pool days are looking good.Not forgetting the accessories – reversible bucket hats, tote bags, socks, sunglasses, caps and backpacks. Consider all of your festival needs covered.
But come on, it's the UK and once those April showers hit, turn your eye to the fully equipped Reign jacket, with its waterproof and ripstop fabrics; if "when" you get caught out, you're protected without looking like you're heading to the alps.
The Santa Cruz Skateboards Spring 2022 collection is available to shop online from mid March.
Words and Images: Press