Caitlin Yates, the loud and humorous emerging designer from The Cotswolds, is changing the face of menswear and textiles. Graduating from the University of Westminster last year, Caitlin started developing her own label 'C8Y8S', blurring the line between gender and high-end streetwear. With designs stocked at 50-m Store in London; worn in music videos from Wiley to Metronomy, and published in magazines such as Dazed, Vogue Italia, King Kong and Fucking Young!, Caitlin is a force to be reckoned with. The humble Artsthread x Gucci, Global Graduate Winner is making her mark in the ever evolving fashion world, and "just wants to make [her] Mum and Dad proud".
"I would say my style is always very loud, the people who would wear my clothing have to have a level of confidence and guts about them to pull it off. A bit of oomph about someone. My style really is about re-inventing the old, speaking garment wise but also politically, so I use a lot of juxtaposition in my work."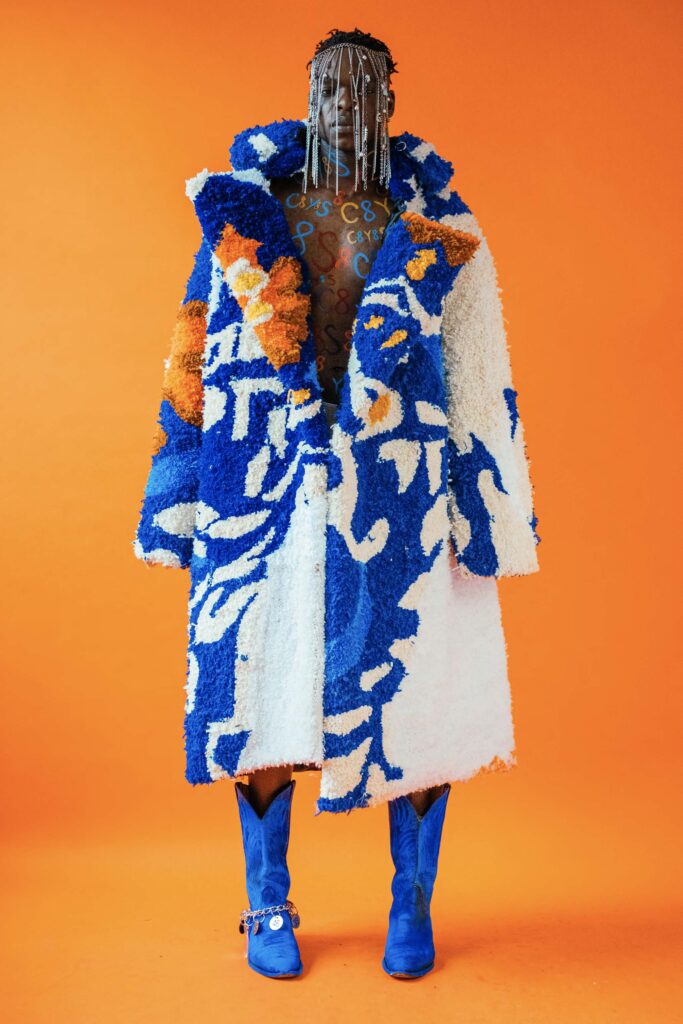 With storytelling being such an integral part of her work, Caitlin succeeds in creating conversations about certain political and social issues, whilst using humour as a balancing act.
"A lot of my final collection had prints that were taken directly from Wetherspoons carpets. The owner of spoons is outwardly known to be a Tory, and my collection was used to draw awareness of rural poverty within the Cotswolds. My way to create a balance between these two worlds, was to use humour to harmonise them."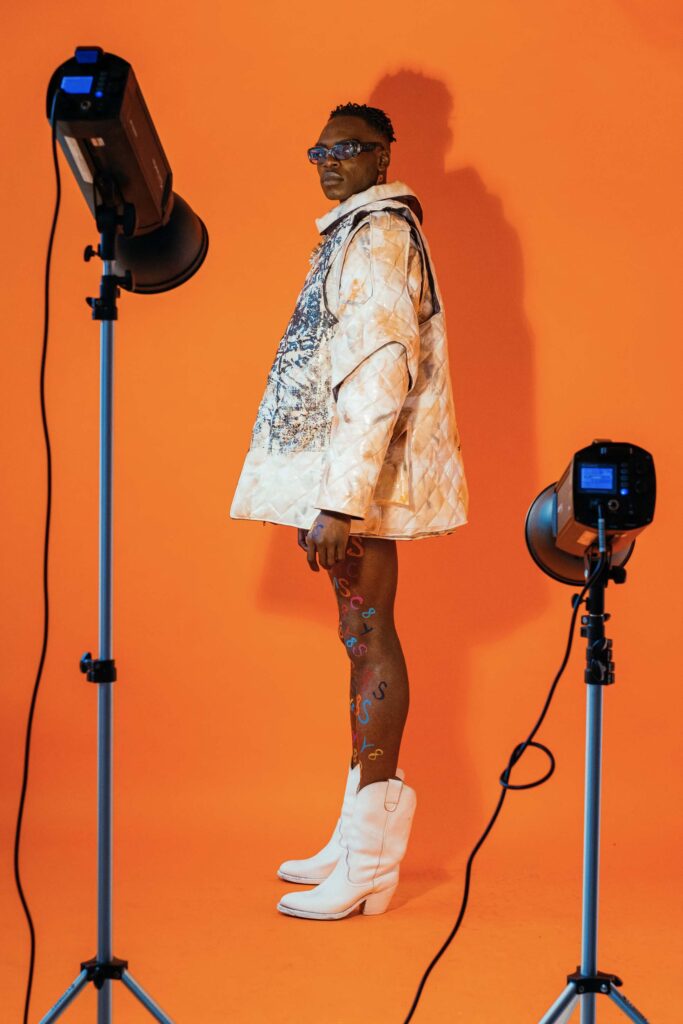 Finding beauty in the everyday and mundane, Caitlin explores how everyones normality differs from day to day, and uses her designs to show you hers.
"My family have always been my biggest inspiration, specifically my parents. They have always helped my growth within being a creative since before I can even imagine. I really grew up in the middle of nowhere, I had no access to real fashion, and couldn't even buy Elle or Vogue in my nearest shop. When I was growing up, fashion was very much Barbour, Pauls Boutique or Miss Sixty jeans. As there is such lack of creative push in my area, the majority of my creative education was from my parents. […] Both parents have been supportive and pushed me to do whatever I want. […] I get daily emails from my Dad sending me interviews or work he likes from artists and designers, which is really sweet. I just want to do well for my Mum and Dad to be proud of me!"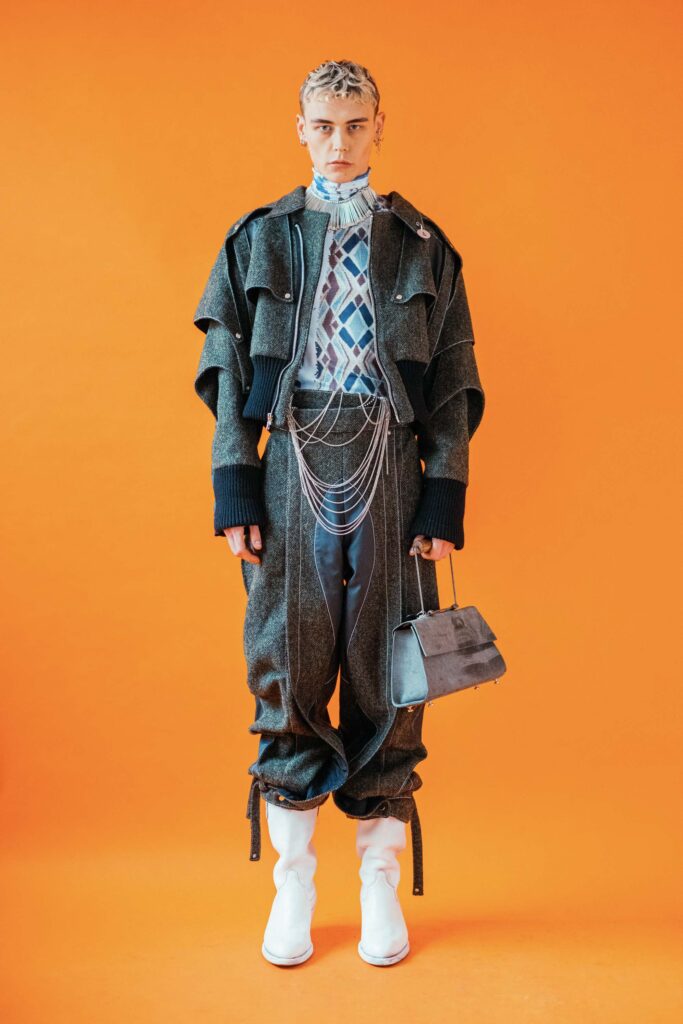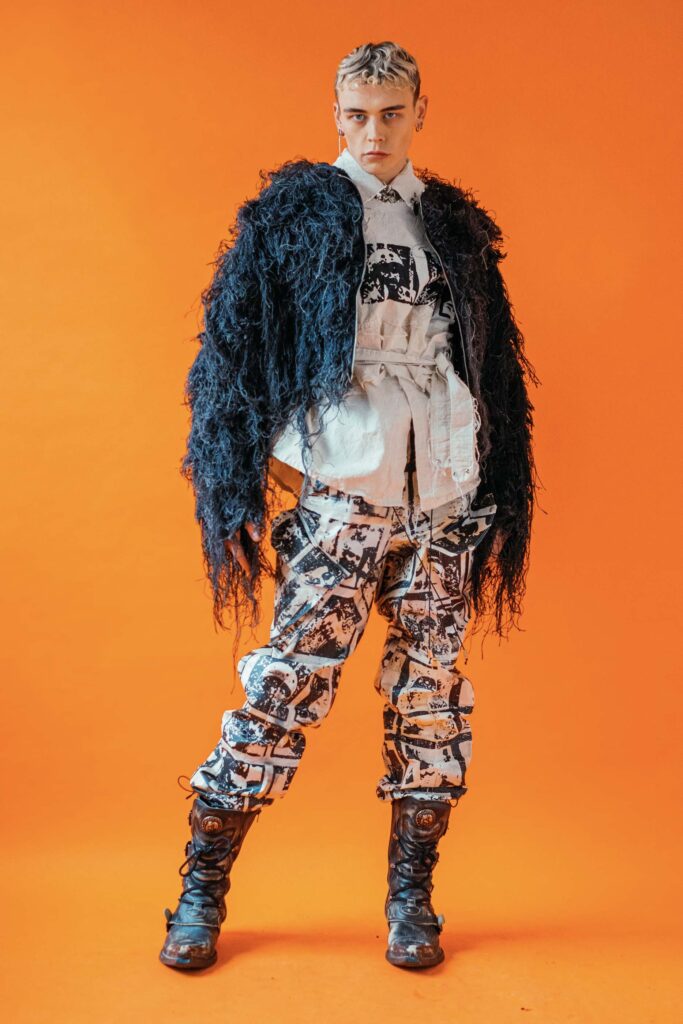 Caitlin was faced with the arduous task of creating her final 8 look collection from home, during the height of the Coronavirus pandemic. The skill and dedication required to create such work, during such a mentally and physically exhausting time, shows Caitlin's pure aptitude, love and determination as a designer, which is exhibited through her final collection.
"I think our year of designers will be some of the most hard-working and adaptable designers, simply because of the year we had to face."
Currently working with Martine Rose, and as a designer within London, we reckon you'll be hearing a lot more from Caitlin Yates. Keep your eyes and ears peeled.
Words: Ella Kenneally
Clothing: Caitlin Yates (@c8y8s)
Creative direction / Stylist / Casting: Marko Vrbos (@marko_vrbos)
Photography: George Vicary (@georgewilliamvicary)
MUA: David Gillers (@jnx_mua)
Models: Tom Goddard (@mrtomgoddard) & Joseph Adeosun (@jo_adeo)
Look-book Assistants: Jesse O'Shannon (@jesseoshannon) & Joe North (@joejamesnorth)
Knitwear: Alice Morell Evans (@alice.morell.evans)
Cheese Rolling Prints: George Vicary (@georgewilliamvicary)
Rug Coat Tufting: Nell Mitchell (@nellmitchell_)
Chainmail Hood & Necklaces: Brogan Smith (@bbsmithhh)
Bags: Jana (@janasstudio)
Jewellery: Pebble London (@pebblelondon) & (@dosisg6c)