Bad bitches rise up for your new anthem 'Mulan'
DEJA is a singer songwriter from Solihull, Birmingham who has always had a passion for performance. Since the age of 14 DEJA has been singing her way up the ladder of success with buzz worthy releases such as 'Boujee' 'Wishing' and 'Like That'. Along the way she has even gained recognition from some of the industry's heaviest hitters such as, The Jacksons, Macklemore and Etta Bond, by being personally asked to open their shows.
The multifaceted DEJA is back with her signature seductive vocals and fiery beats, but this time she is embodying the spirit of one of history's baddest to ever do it, Mulan. Mulan is the main character of every situation she finds herself in and DEJA has perfectly encapsulated that aura with her latest offering which will have every listener feeling like no other bitch can touch them.
We have a feeling that DEJA's latest offering will be a bop that everyone can't help but keep coming back to when they are feeling themselves in years to come.
'Mulan' drops today 1st February, make sure to stream and download.
How did a girl from a small town like Solihull become the artist you are today, what was the first moment that made you want to take this path?
So, I was cast as a rock in my primary school nativity play. You better believe I was the sassiest rock you'd ever seen. I was made for this shit. I've always wanted to sing and perform. Writing came later. My sister used to write and record songs on her tape recorder. I'd be gassed when she asked me to press record let alone sing harmonies.
Do you remember your first ever song you wrote? What or who inspired that?
I wrote my first song in Nigeria. I was there on my yearly trip to visit family. My auntie had all of us kids in the car and we crashed! The whole thing was so stressful and probably my first proper high-level stress event. I'd written copious amounts of poems and verses but never a full song. But that day – after what felt like a near death situation (it really wasn't – it was a bump) I had a full song ready. To this day, it's my mother's favourite song of mine!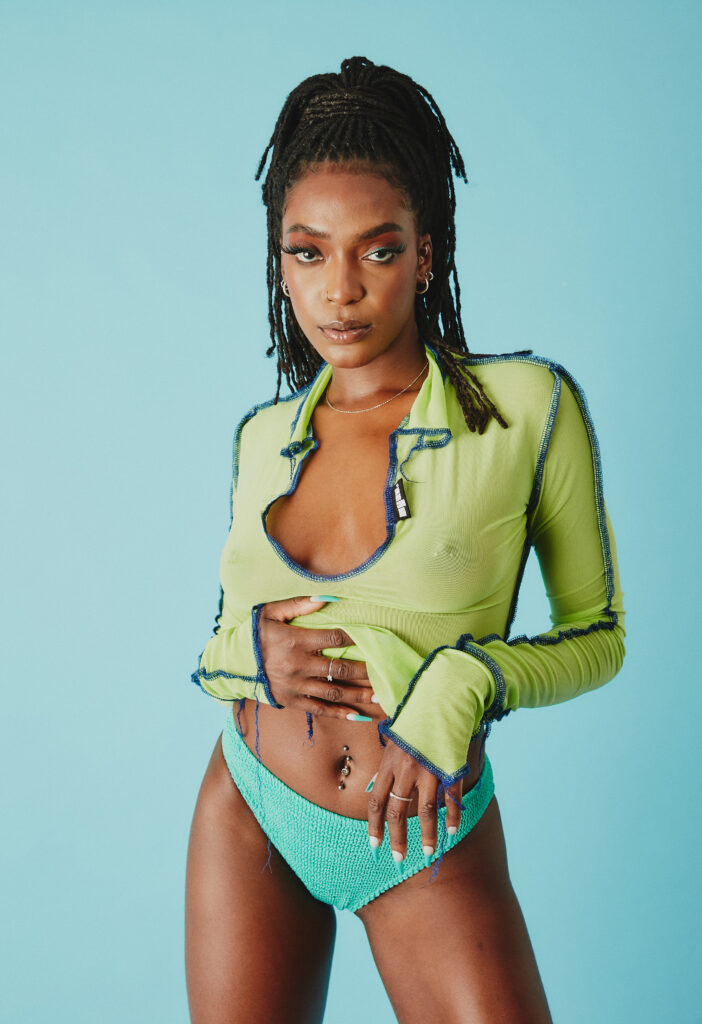 Who introduced you to the RnB and Pop sound that inspires your music?
My sister. When I was in school, she was in college and her music phases were my music phases. From indie to classical to hip-hop, Vivian taught me a load about music. Her faves were Britney and Britney. She fucking loved Britney. We re-created all of Britney's music videos in our living room. Destiny's Child played the biggest part in carving my taste though. When Viv introduced me to Destiny' Child, it was different. The singing that felt like rapping, the harmonies and runs were like damn caramel, the dance moves were so cool – I fucking loved it. Viv bought me the Survivor (2001) album and it opened me up to the artists that made DEJA. J-Lo, Usher, Diddy, 112, Ashanti, Chris Brown, Justin Timberlake, MJ, Brandy, Rihanna, N.E.R.D, Tweet, Missy Elliot – I could really go on!
Did you feel like it was necessary for you to make the move to London for your career?
Defo. I love where I grew up – I miss it like mad. It's just not got the infrastructure I need to move as quickly as I'd like. In London, I have my whole creative team around me. My manager's 30 mins away, my director's 20 mins away, my photographers and choreographers are 30 mins away. I couldn't get that in Solihull.
Is there anything you miss from your hometown of Solihull?
The quiet lol. And my mother's living room. I'm actually such a chill person. Lemme rephrase that actually. I love chilling. And London's so full on when it wants to be. Sometimes I just wanna curl up in front of my mother's TV [laughs].
Your new song is titled Mulan…have strong female characters always influenced you? If so, which other characters would you say have helped shape your point of view?
I hadn't really thought about this until now but yes. I've always felt most connected to the strong female character. Jay, from My Wife and Kids, my sister, Xena the Warrior Princess, the oldest sister in Charmed, my mother, Honey's bestie Gina! These women wouldn't be told what to do. They do the telling, ya know? They had the attitude and even one-track mindedness that I've followed.
So, DEJA tell us a bit more about your new track Mulan, why was it important for you to release this single?
I refuse to let people (especially society) tell me what to do and 'Mulan' is the perfect expression of that with a cute and sexy vibe thrown in. It made sense to start the year with this one.
What can we expect from you for 2022? Any upcoming surprises for your fans to look forward to? Tour, new EP, something completely unexpected?
So much planned for the year – keep ya eyes peeled!
Speaking of touring, you have had the honour of opening for some massive acts, can you tell us one moment from these gigs that really stuck with you?
Stormzy was lovely. Etta Bond was fucking awesome. But The Jacksons – monumental. I don't even need to explain the gravity that show had on my career. They said "I sing good" and I've been invincible since.
Is there any other artist that you would love to open for? And maybe even collaborate with?
Hell yeah. I think my shit would go down well with a Chlöe crowd. Also, I assume Beyonce would be around so 2 birds with 1 stone. I'd kill opening for Megan the Stallion and Doja Cat. Their audiences would love my ass lol. Collaboration-wise, I'd love to work with DOECHII. I think she's siiiiick. And Ashnikko, maybe Flo Milli – flames. I think we'd make something special. Let them know for me!
Do you have any pre-performance routines / superstitions?
For sure. 1) Drink shit loads of water. 2) Have as much quietness around me as possible. 3) Drink a few shots of rum. And lastly and most weirdly important – do a thorough mouth washing! It's so important that I'm super fresh breathed before I perform. I dunno why. Always been this way.
Do you ever get the chance to sit back and reflect on all you have achieved? Or are you the kind of person who is always looking forward?
I try to commend myself as much as possible but I'm pretty intense. I put a lot of pressure on myself and I actually enjoy critiques so I can be better every time. So, to answer the question – I'm always looking forward.
Where do you see yourself in ten years? Are there any other paths you would like to explore?
In 10 years, I expect to be writing, releasing and touring still! I see myself getting into the acting world though. Watch this space.
Lastly, if you were about to perform your last ever gig, what would that look like?
I intend to be on stage til there's no air in my body! No last gigs [laughs].
Spotify // Instagram // YouTube // Website // Twitter
Words: Dylan Hannigan
Images: Press shots