Wednesday's Child, London based alternative / psych rock / punk band. Our songs are about dreams and desires, monsters and mermaids, serpents and sisters.
@wednesdayschildmusic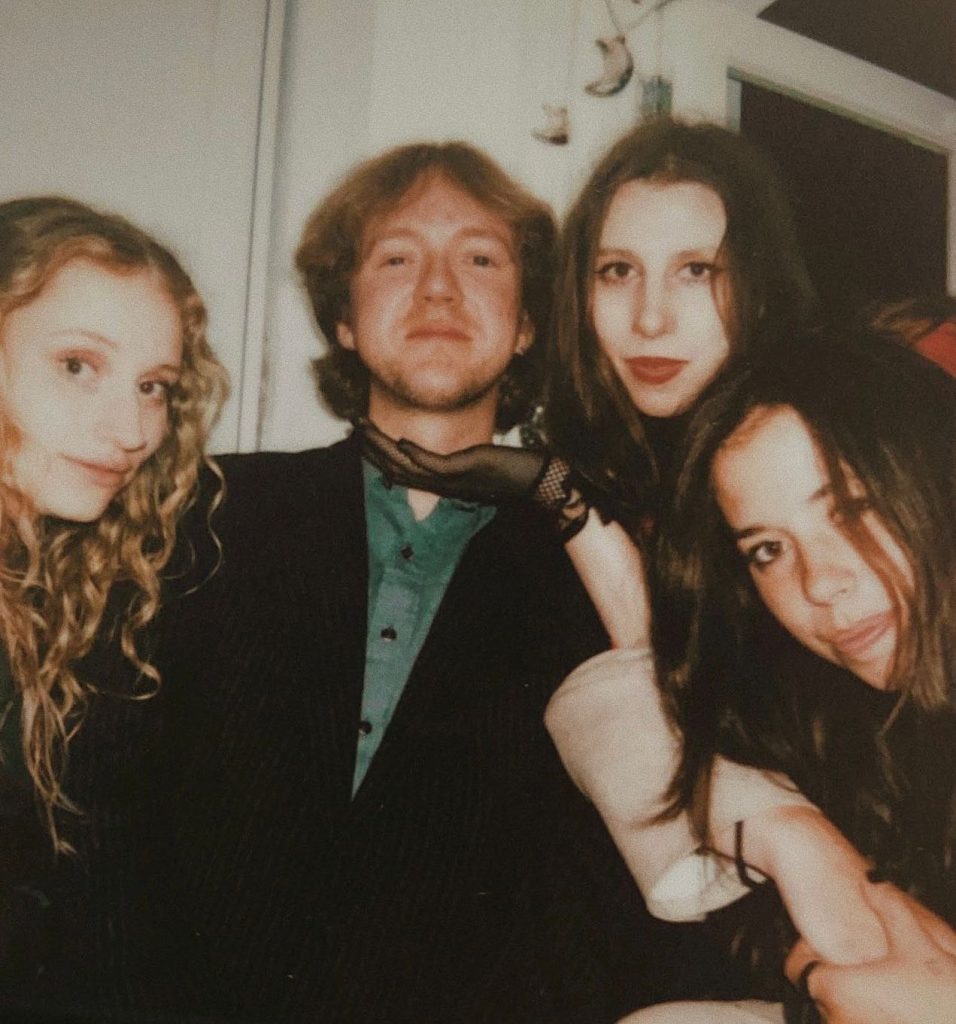 1,For someone that is yet to discover Wednesday's Child in 5 words how would you describe yourself. Motto – more bassoon. less bullshit.
2. How did you get together? We all grew up in different parts of the UK and then met in London through friends, writing sessions and depping on gigs. The band formed naturally – we were all looking for a project that would give us connection and storytelling. It sounds hippie dippie, but it's true. The biggest success of Wednesday's Child is how close we all are. Get lost, find people, get found.
3. What's the story behind the name? Wednesday's Child is from an old English rhyme about the days of the week having some kind of fortune attached. When we started the band, Wednesday happened to be the time in the week we had free to write and rehearse. Then, when we came to make our EP 'Seven Sisters', we tied the rhyme into superstitions surrounding the number seven.
4. Where do you feel you fit into the music landscape? There are some really strange and surreal bands playing around London at the moment, and it's great to feel part of a community driven by something guttural. When people come to our shows or listen to the music, we want to invite them into a world of impulse and in-between.
5. What other artists or bands do you draw inspiration from? Paula Rego, Patti Smith, The Slits, St Vincent, Black Midi, Lingua Ignota, The Ronettes, The Beach Boys, The Beatles, The Clash, Christina Rossetti, Lewis Carroll… so many, we could go on and on!
6. What's currently in the pipeline for the rest of 2023 & 2024 for you? This weekend we're roadtripping to Manchester for our first gig up there, and then we'll be back at Paper Dress in Hackney on Saturday 11th November for a headliner, so get yourselves along to that. We're really proud of our new set – lots of new songs and reworked older ones. Our music video for 'Terpsichore' is also coming out on Halloween! Autumn is the time for Wednesday's Child to shine in all our witchy ways. Last week at The Windmill we did an enchanted woodland theme with mushroom and fairy costumes onstage. The mushroom headpiece proved cumbersome, it was more like a flying saucer.
7. If you had to boil down what you each bring to the band, what would your answer be? We each come from different creative backgrounds, and all of them get fed into the group and spat back out as something mutant. Some of us are classically trained musicians, Amelia is a studio engineer, Georgia trained in acting and circus… It's really freeing to be holistic in our approach and not separate our interests. They can all overlap and inspire.
8. How do differ you from other artists/bands? We believe in the originality of our sound. Wednesday's Child is a patchwork of all of us, and although we get a lot of fuel from other artists, we never try to sound like something or someone else. If it feels exciting, then we do it.
9. What can fans expect from your new set? There's still a lot of heightened storytelling and characters, but we've been tying the set together as one big production instead of song / stop / song / stop. The new music was written in the space of a few weeks when a lot of changes were going on in and around us. Sometimes a song can be your subconscious making sense of things – or nonsense of things – so it sounds like the psyche being cracked open and then put back together again. Everything feels very vital at the moment.
10. Who would you most like to collaborate with artistically? Recently, we've been collaborating with our friend and dancer Théïa Maldoom who sometimes joins us on stage and interprets our songs into movement. We call her the floating member of Wednesday's Child and truly think of her as part of the band.
11. What was your worst performance? We did a Christmas gig last year, and although it was a beautiful night and we raised money for Crisis homeless charity, we were all pretty sick. A lot of snot and cracking voices. You're welcome. We suffered for our art, now it's your turn.
12: What was the most difficult obstacle you have ever faced and how did you overcome it? Honestly, staying afloat in a really expensive city, in a country that increasingly undervalues the arts, in the middle of a mental health crisis. We want to keep building this band so we can support ourselves doing the thing we love. As we try to make a living out of this, we look out for our friends and cultivate what is valued by the self instead of validated by society. It's also helpful to stay outraged at those in power and not get used to this as the norm.
13: How does your creative process work – do you work with others or is there just You? The process for each song or show is different depending on what's getting us riled up and how we want to express it. Sometimes one or two of us bring a song they've written into the band, other times we play around with ideas together until a story emerges. We also make sure to do other things together like walking, dancing, book swapping, movie watching, making food… all creative acts.
14: Is there a hidden meaning in any of your music? For Georgia, a lot of the lyrics have specific experiences or personal meanings attached. At the same time, she hopes the language sparks different imaginings for different people. Even though the 'Seven Sisters' EP uses the concept of seven women across time and space whose stories have inspired us, it became autobiographical. You can see yourself in a different light through someone else's eyes. Sometimes that's a good experience to sit in, but often it returns us to ourselves with a real reckoning. 'What do I see in myself?'
15: Who would you like to see Live past or present and why? Any scientist giving a lecture on theoretical dimensions, sign us up. We've been going down some research rabbit holes recently
 Catch Wednesday Child at Paper Dress in Hackney on Saturday 11th