Aaron Smith is sadHAPPY, the 27-year-old musician has started a new chapter in his musical career with his new stage name sadHAPPY, the dance-pop alias of the talented singer.
I spoke to sadHAPPY a week before the release of his debut project, 'Say Goodbye'. We covered everything from his name change, his creative process, life as Aaron Smith and what's next for sadHAPPY.
We kicked off our conversation with the question I was most interested in, Why the name change? The first 3 years of Aaron Smith's musical career were under that name and saw the young Scotsman release a number of powerful ballads racking up millions of streams and listeners. In 2022 sadHAPPY was born a new project for Aaron with somewhat a new sound, "I kind of try not to like touch on the name change, I kind of just treated it as a new project". 
Aaron was struggling with a lot of things in the early stages of his career and still is to this day, and was a big factor in his artistic change, "The main reason I started it, when Covid happened I was going through a rough time in life, I was drinking a lot, I was an alcoholic, I took a year and a half out of music to get sober and just kind of connect with myself. I was so depressed all I really felt was anger … I reconnected with myself and came back and felt I wasn't connected to those songs anymore. A lot of those songs were about depression and feeling suicidal, not wanting to be here". Aaron took time out of music and focused on himself, the powerful ballads he was making before his break had so much emotion and pain that he didn't feel it was where he was when he returned and didn't feel he should release under Aaron Smith anymore, "I came back, I didn't really wanna do that anymore. So what am I Listening to at the moment, and it was just a load of house, indie dance music, I started going into sessions again, I was like i'm going to experiment and do it". The sound changed as Aaron could no longer connect with the music he was making before and the name was a change based exactly on how he felt at this stage of his process and was created alongside his management at the time," My manager at the time Amy was like you're the best version of yourself today but you still struggle with anxiety, you still struggle with depression so you're more sad Happy"
It was a fairly big change for Aaron as he reinvented himself as an artist, Aaron is still creating the sound of sadHAPPY and is letting his listeners and fans come along on the creative journey, "I think it's been good, you're never gonna please everyone unfortunately and that's okay … I'm still discovering the sound of sadHAPPY. I'd rather take people on the journey, like I'm kind of releasing music and still figuring this out but I'd like to take you on the journey and when it connects it connects".
Aaron is preparing for the release of sadHAPPY's debut project set to release on the 25th of August, the 5 track project is titled 'Say Goodbye' and will be the first project from SadHappy. The project is important to Aaron not only because it is his debut project but it is also an ode to his late father, "The reason why I called it 'Say goodbye', was just after we put 'Dance again' out my dad passed away … it felt appropriate to call it that at the time. If you look at the EP artwork as well I put my dad's fingerprint on it as well".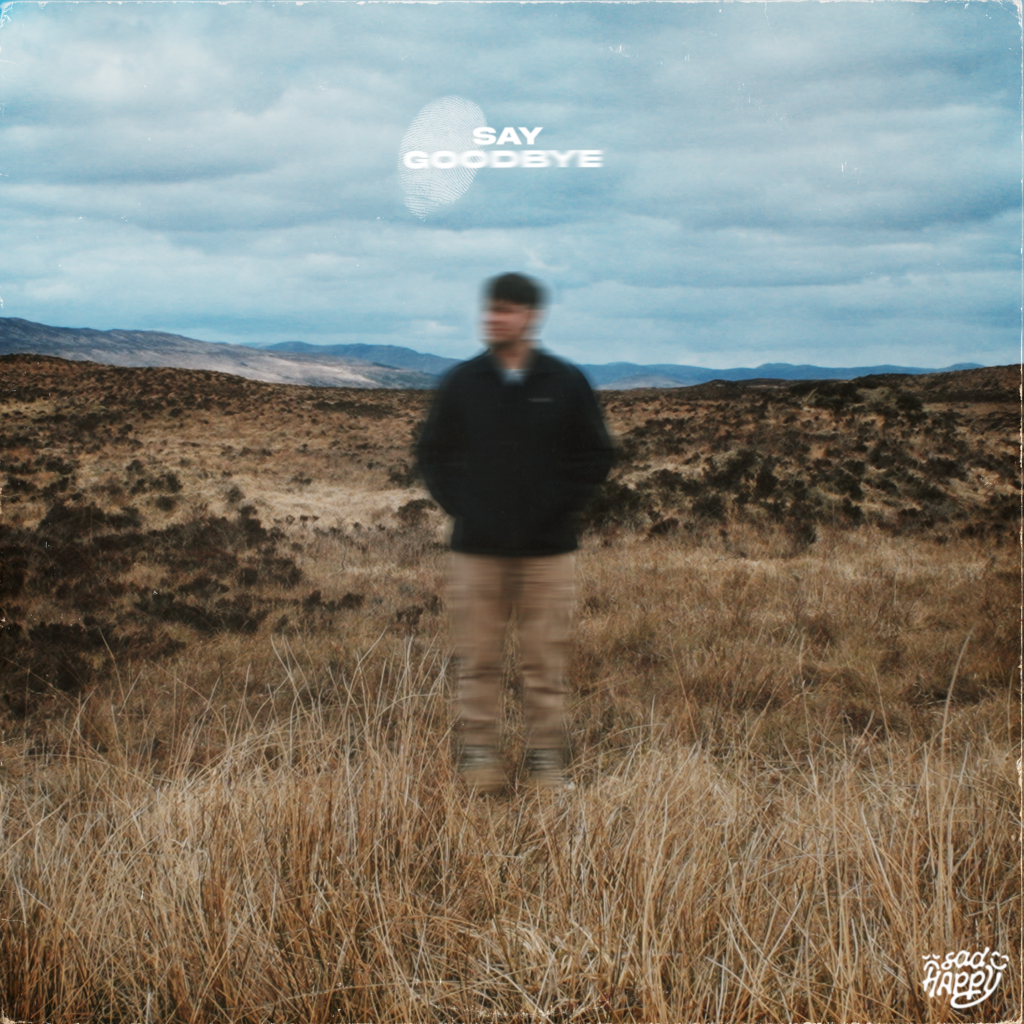 'Say Goodbye' means a lot to Aaron, The project being an ode to his late father makes it so important and even the way the tracks were created took a different turn from Aaron's previous work. A majority of the 5 track project was made in Scotland, the song 'Dance Again' was made in the Scottish countryside alongside a few friends, while 'Super Low' was one of the first tracks Aaron created when he was about 20/21. Aaron's music under Aaron Smith was mostly created in London, with Scotland not being the biggest hub for record labels and writers, but with 'Say Goodbye' Aaron stayed close to home as Scotland's creative scene begins to blossom, "Majority of it was done in Scotland, which has never really been a thing for me, its normally all in London".
sadHappys Debut project releases today and is the beginning of Aaron's new journey. While the project is a massive starting point for sadhappy, it's the live shows that excite Aaron the most. "The reason I do music, in general, is the live. I haven't taken SadHappy live yet. I wanna build a live show as interesting as possible and as enjoyable as possible … I don't think there's any limit for me". One of the most important things not only for Aaron but for everyone is their happiness and sanity and with all the struggles Aaron has previously had he wants to ensure the next chapter of his career is one with joy," I wanna do music and still be happy, does that make sense because a lot of artists become miserable and something I've realised if you don't have happiness or peace you don't have anything really".
sadHAPPYs debut project 'Say Goodbye' is available to listen to now