Cailin Russo is an avant-garde pop star attacking the music industry with a new plan and style. A Google search of the highly talented singer would suggest she is just a model who was featured in a couple of Justin Bieber videos in the mid-2010s, this would be completely wrong, the multi-talented 29-year-old is an exciting artist with ideas and visions that she can barely keep a hold on.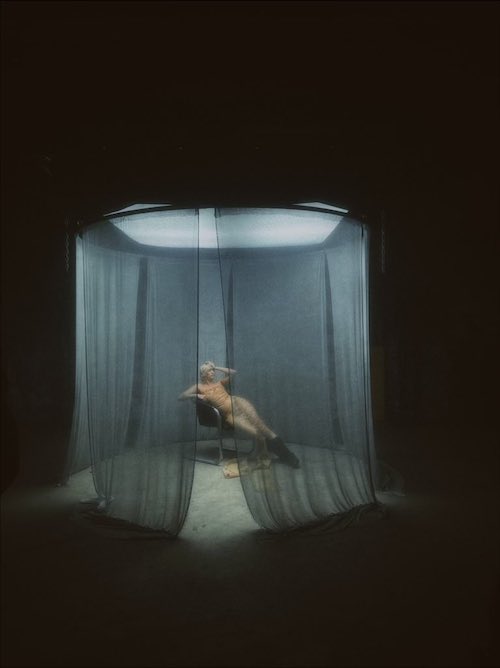 Growing up in san diego in what Cailin called a "very classic American suburb", she had a good upbringing in an area with "huge Spanish influence, reggae influence, and Asian influence" despite its highly suburban flair. Cailin is the daughter of Unwritten Laws frontman Scott Russo, growing up around music it was actually a major incident in 2009 that led Cailin to begin her musical path, "We had a house fire in 2009 and I'd only seen the live versions of music… when the house burned we moved into his (Scott Russo) friends house and there was a studio built in the house". Despite the tragedy of a house fire, the move saw Cailin debut in a recording studio as her father recorded it, a support that he has never faltered with during her last 10 years of creating music "He offers unconditional support, cause we fight a lot and he still supports me wholeheartedly".
Cailin describes herself and her music as "Experimental pop music and as an artist, I would consider myself a humble power symbol", her latest project was Cailin's debut album and was her first as an independent artist. The project titled 'INFLUX'' is a powerful experimental project covering a number of topics and themes, the project was also featureless as Cailin used her debut project to showcase the music and sounds she wanted to make, "I just understand the path that I wanna take, before I was in a position where really I was letting other hands guide me and I was like just classic young artist, letting label people tell me what's right". The beautiful songstress has been releasing music since 2017 and came into the industry as a 23-year-old hoping to make it as far as possible, she has now grown and matured and is able to look at the space she finds herself in and has been working in for the last 6 years from a different angle, "I got more real with myself and focused with what I wanna align with … before I had to like to bend my perspective and how I would release stuff because I wanted to please other".
'INFLUX' was exactly what Cailin had hoped "I think everybody is really shook, I think everyone's shook". "I've been talking about dropping an album for so long, and the level I took it to with the songs even now dropping visuals, I just got super serious and I don't think anyone was expecting that". From pre-release to post-release every move has been done the way Cailin had envisioned, "The album release was special and unique, I wanted to make it a fully immersive experience," The release was planned alongside her friend and set designer Ava Naia Villafañe and saw the pair take inspiration from Alexander Mcqueen runways and Maddonas Human nature video, with Cailin performing her new album in a singular chair in the centre of the room surrounded by a curtain. Following the project release, Cailin has gone on to drop a number of visuals from her project including videos for her tracks 'GLASS JEDI' and 'PSYCHO FREAK', as she prepares to release a clothing line alongside the project.
Cailins career started nearly a decade ago but after talking to her it feels as though it has only truly started in the last year or so now she is in full control, "I'm full artist mode, music is so important and the quality of the music is so important". The next years will be massive for the 29-year-old as she prepares to stamp her foot in the game and become the pop sensation she deserves to be.
"Tour is the most ideal and what my team and I want the most … to tour Europe and to make waves in the UK, honestly I wanna spend more time there, I would love to tour Asia as well and start collecting pieces to drop another little project before the end of the year". Cailin has just warmed up, she dropped her first independent album, she created a project with her sound, and she's been able to release it and showcase it with the ideas she has and the people she loves.
Cailin's debut album 'INFLUX' is truly a sonic experience and is available to listen to here: