This season sees Fashion Scout China showcasing a curated selection of talents on the catwalk during London Fashion Week including NEXUSME, Buerlangma and De Fichier.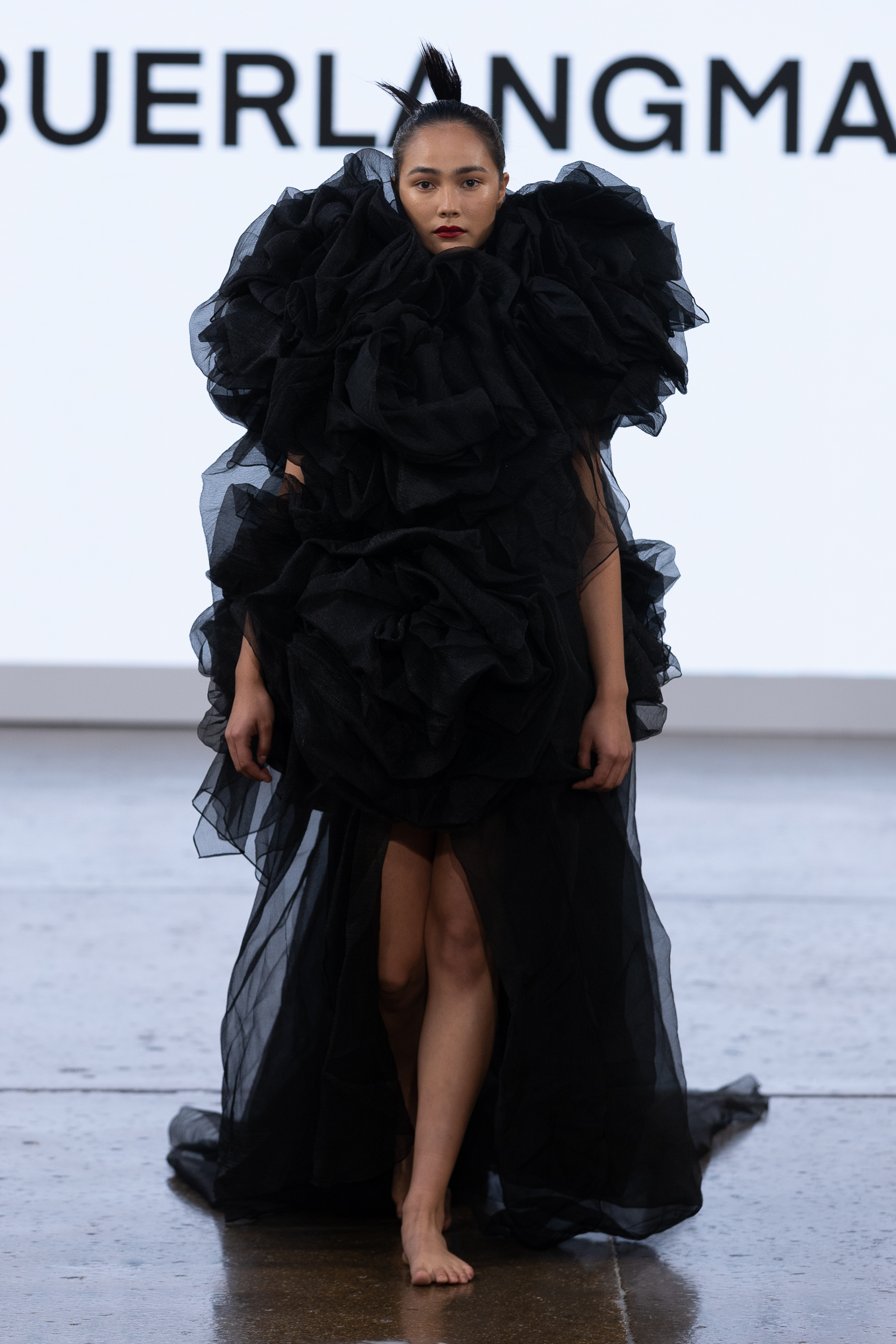 Buerlangma
Buerlangma will be debuting at LFW with 8 looks made from yam, inspired by many natural flows, such as waterfalls, fountains, winds, volcanic eruptions, streams, and rivers. The emerging designer initially made a name for himself as a media figure after his appearance on U Can U Bibi, Chinas first talk and debate show produced by the Chinese video-sharing platform iQiyi. On the show, the then 19-year-old articulated his support for the controversial topic of boys being allowed to wear skirts to school. Yuan Qiqi wore a pink and purple dress he designed while giving a "brave and inspiring" speech which resonated with many Gen Zs with strong beliefs in the power of their personal individuality. Buerlangma's latest line is very much the fashion of the moment, giving the impression that every dress is strangling someone, the extreme pursuit of body lines is something Buerlangma wanted to reject in this collection. Buerlangma is one of China's youngest couturiers and his designs were selected by Beyonce's team for her album cover.
"I want to celebrate female beauty, it's not about being too small and too skinny, so I made this series. Every skirt I designed is to be as comfortable as possible, so I put a curve on the skirt, instead of shrinking the skirt to reflect the female body curve, this is counter-logical thinking", Yuan Qiqi.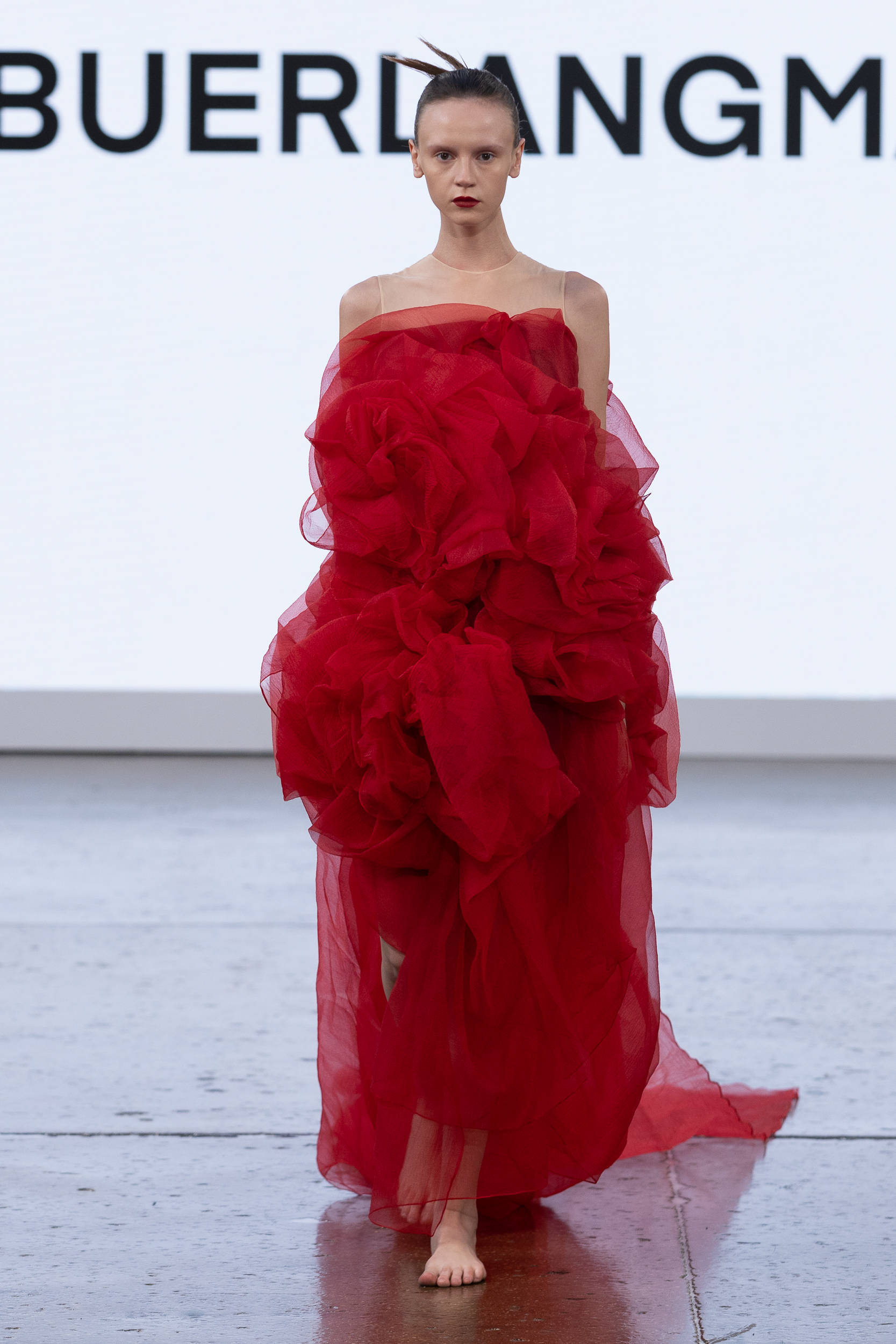 De Fichier
De Fichier are presenting for the first time at London Fashion Week with "Episode One", a collection influenced by eclecticism, without deliberately pursuing consistency and coordination. The concept, design and results of this line are just like a storyline, a chaotic yet straightforward tale. Using chapters instead of seasons is De Fichiers way of communicating a plot development.
The silhouettes are inspired by a blend of women's looks from different periods of the last century. Some of the short skirts nod to the 20s and don't accentuate the waistline, while long skirts that highlight the female form and make it more contrasting. The silhouettes and elements of the men's jackets were added to make the look more relaxed. Colors from the Art Deco period such as pale pinks, greens and brighter blues, each look is paired with a black coat or dress to give a harmonious contrast whilst the whole collection is made by hand using silk from China and Wool from the UK.
"This collection represents more of an attitude towards what is happening. The so-called eclecticism, which does not stick to one form of expression, incorporating different styles, fabrics and silhouettes from different periods, is also a symbol of femininity in the eyes of the brand, complex and versatile". De Fichier.
Nexusme
 NEXUSME returns to London with Topophilia, inspired by the fast-paced life and workload of the city, where its dwellers yearn for green space. This attachment is engraved in our senses, to regularly return to green spaces to recharge. The silhouette of this collection combines the growth form of plants in nature with the outline of the human body and is intended to express the plant attributes of human beings in nature and the powerful life potential inherent in them. The colours are inspired by a series of theoretical and practical methodologies proposed by architect Stefano Boeri for the coexistence of cities and green spaces. Black and white are common colors in cities and represent human civilization and green is the representative of nature. Purple is connected to the soul, joining nature and the city. This collection also uses the printing design of natural elements. Inspired by Karl Blossfeldt's vivid and delicate images of plants with different shapes. The designer carried out a series of printing experiments and expressions on the observed plants by means of painting and cyanotype.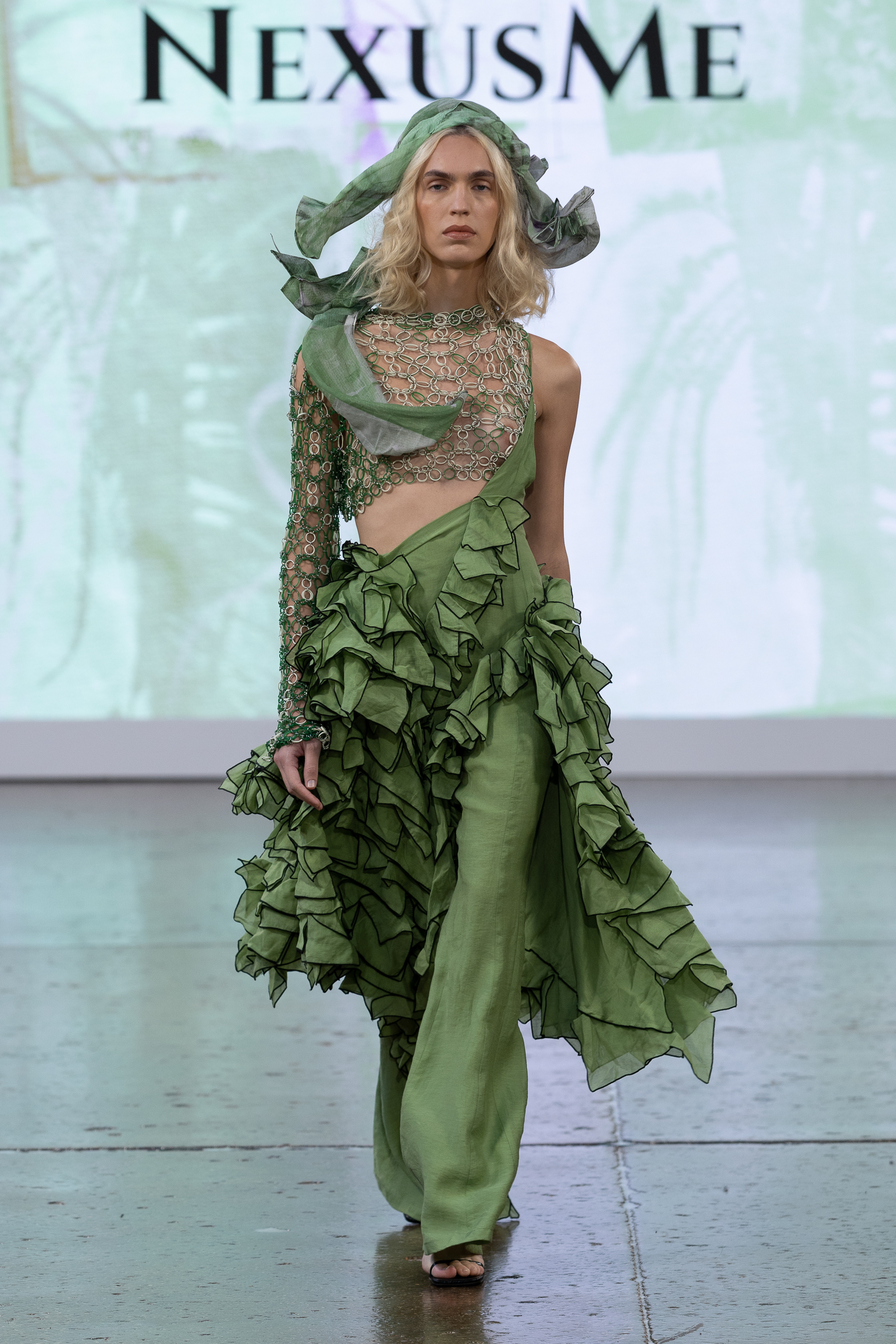 Fashion Scout, London, 16th September 2022. Fashion Scout China present their Spring Summer 2023 designs as part of London Fashion Week.
Images by ©Chris Yates/ Chris Yates Media