Herbie Mensah began his career in the 1980s as a model for Vivienne Westwood. Through this opportunity, he was able to travel and was quickly exposed to new worlds that helped him develop his love for fashion and art. It was during a trip to Tokyo in the mid-nineties that he first had the idea to paint-splat an army jacket.
Today, you can find Mensah at Portobello Market, where he is able to meet and connect with customers from all over the globe. Mensah's ideas have evolved to encompass customising one-off vintage pieces, working with hand-bleached denim, and curating a selection of men and women's vintage clothing.
My name is Herbie Mensah. I was originally born in Ghana and relocated to the UK when I was 3 years old. In terms of what I do, I focus on up-cycling clothing. I get old clothes, mainly unwanted or vintage items, and if I think I can add a twist to them, I will create something new. I used to sell a lot of my pieces at Portobello Market. I saw that there was usually a lot of clothes leftover and unsold from other stalls, so I thought, rather than just throwing them away and having them end up in landfill sites, I would try something different. 
Where did your interest in up-cycling first stem from? 
I was an avid clubber back in the '80s. On a Saturday night, when you would go out somewhere it was common to get a friend with a sewing machine to make an outfit for you because we were students at the time and didn't have a lot of money. My mother was also a seamstress and she used to make her own clothes. My dad loved his suits and would have his clothes tailor-made by a Greek tailor called Kostas, so I think it was a combination of these factors that really made me love clothing and fashion in general.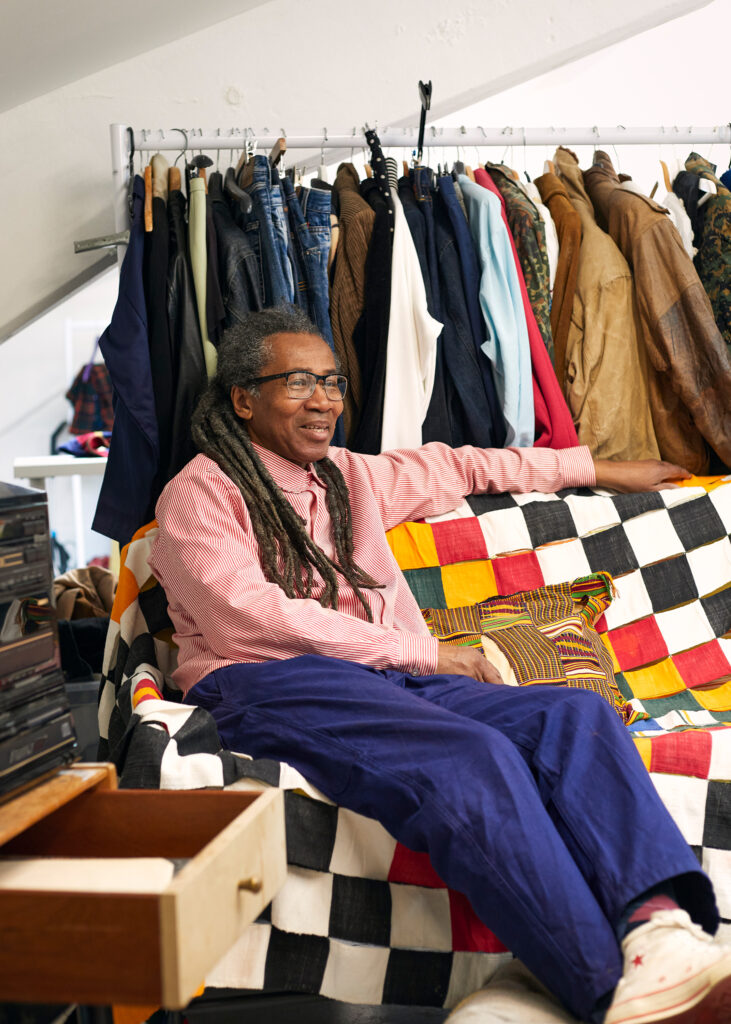 Outside of the influence of the '80s clubbing scene, do you have any specific artists or designers who you would say have greatly inspired you?
For me, it was always Vivienne Westwood. I ended up modeling for her at the beginning of '82 or '83, and essentially became her muse.  She came from that street, DIY punk scene, where it was common to have safety pins in jackets or cut up material and things like that. So with her, I would say she was the person that when I look back now, inspired me the most. I remember realizing that the seams of clothing could be sewn and they didn't have to be neat and tidy. If the jacket was a bit mismatched or something was sticking out, that was okay. In my work today, I like for people to know that my clothes are up-cycled. It doesn't matter if it's not straight, or the seams are a little bit of, that's how I want it to look. It's keeping it in line with that sort of punk, DIY aesthetic.
What do you hope for people wearing your clothes to feel? Do you have a target audience?
Well, first and foremost it's definitely fashion-conscious individuals. And ethical people. People who have got something in their wardrobe, who instead of chucking out something they haven't worn in ages, decide to do something new with it. Add badges to it, put patches on it. Who can get more of a life out of it.  Fashion these days is so fast. Yet, what I see now is more or less the same things we were wearing 10 years ago. Everything's coming back around. So your wardrobe today could be something that will end up being vintage fashion 10 years from now, because fashion is a cycle. So what I attempt to do with my pieces is put a twist on something old and make it new.
What is your typical process like when creating a new piece? Do your start with a sketch or how do you go about it?
I've got no training in fashion whatsoever. I couldn't draw to save my life! So basically, I just get a garment, I'll look at it, have a think, and then decide what might look good with it based on what comes to me. Hence, why I have boxes of fabrics and materials in my studio. I'll lay it out, try something, if that doesn't look right I'll bin it, try something different. And do that process again and again until I have that 'Ah-ha' moment. I don't create something just for the sake of creating, I always want it to look good. It has to be something that I would wear myself or something I could clearly picture somebody else wearing.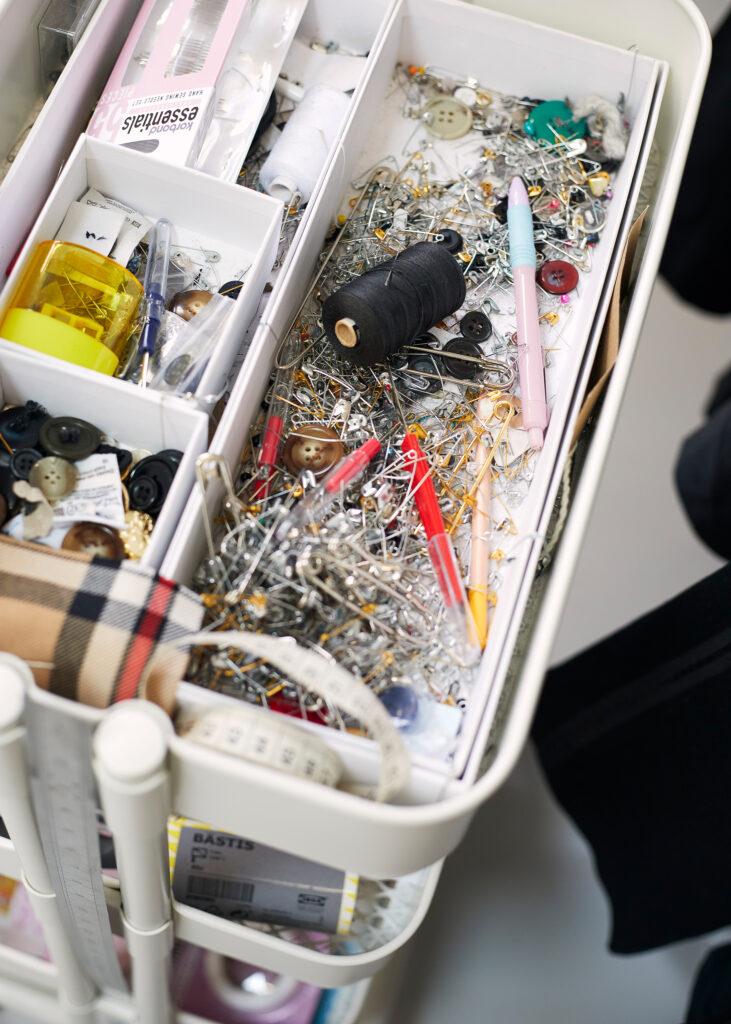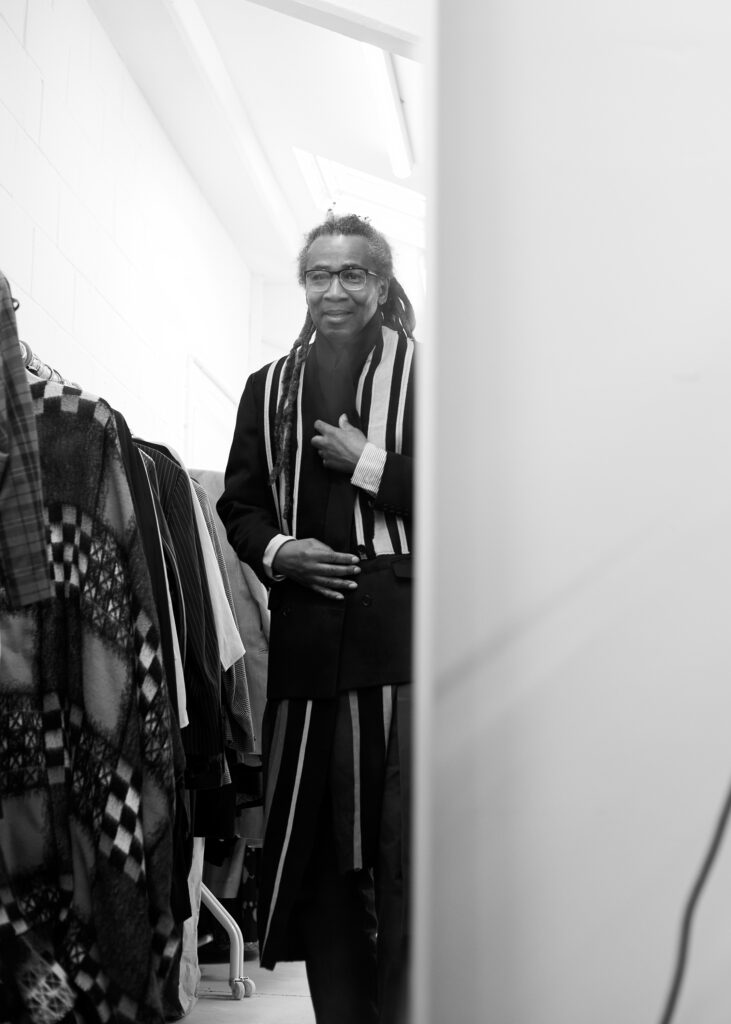 When it comes to selling your pieces at markets or lending them for photo shoots, what would you say is your favorite part of the creative process?
Personally, I prefer the part of actually making the pieces. If someone wants to borrow it for a shoot, that's a bonus for me. I'm just happy someone else appreciates my designs. My focus is on finding the right idea, making it, and then if it sells I get a buzz. It's definitely a good feeling. 
Where do you see the "Herbie Mensah London" brand being 5 or 10 years from now?
Right now, I'm just letting it grow organically. It would be great to get a team together who are passionate about the message behind the brand and creating unique pieces. But I definitely don't want to lose that ethical ethos. I, of course, would love to do collaborations with certain, well-known names or brands who may have old clothes that I could use to up-cycle and create something new. Instead of having it sit in their storerooms, they could collaborate with me and I could get it back out there. I want to keep the fashion cycle going rather than us throwing away things with each new trend.
Words and pics by Ayesha Kazim
Thanks to Herbie Mensah London