Having Just been signed with Warner Music, emerging R&B star BOY SODA is leading the way for Australia's music scene.  Making beats from the age of 11, Soda seems as though he was destined to be an artist. Coming to prominence with 2019's 'Time for That' and then 2020's 'Daisy Chain', the self-taught producer caught the attention of converse, who flew him over to LA to play in their Camp Flog Gnaw show. 
Managing to keep busy during the stay-at-home order, BOY SODA dropped banger "LOVEU2BITS" and closed off 2021 with a single from his upcoming EP "WELCOME TO THE GLOW UP."
We sat down with him to take a look into his mind.
How did you get into music?
I've been doing since I was 11. I'd always be making beats around the house; it was around that age I got introduced to Hip-hop.
What's the music scene like in Sydney and how does it differ from the rest of the world?
It's amazing, it makes me feel alive. It could be a city like L.A. but unfortunately our government doesn't value music and the arts. I'm just waiting for us to breakthrough, the work ethic and talent is enough to see it happening one day.
What do you think about the lockdowns effect on live music?
The art and music industry seems to have been completely abandoned. Things like crickets and football are still happening while music festivals are getting banned. It's really disheartening.
It speaks volumes that Australia doesn't grasp the value of the industry, music curates everybody's lives whether they like it or not.
Do you think the stay-at-home order has had an effect on you personally?
Last year was the most challenging for my mental health. I had a lot of new experiences with anxiety and uncertainty. I felt a loss of my autonomy on certain things. I feel just had to let it go and just make more music, and then reconnect myself with why I do it.
Do you think the isolation of it helped your creative output and flow?
Sometimes. All throughout the lockdown it was there in some beautiful moments and I got some amazing songs, but then I was getting radio silence. That's something all creative people experience universally. You can't just force it, if it's not there, it's not there. I just wanted to push through without putting any resentment on the process.
How do you think the industry will recover?
Everyone in Sydney's arts community is so voracious to go out and do what they love, this alone is going to see a surge in the way people put themselves out there. Sydney needs that sense of a scene as well; I wanna see more artists in the same space. Hopefully people come hard at the gate.
Are you a perfectionist?
Yes and no. I get annoyed with myself to a certain level. I've realised that when it comes to the song writing process, there comes a point where you're no longer making a song better, you're just changing it. You can only get so far before the songs done. Anything past that is just a different iteration of it. I don't like to get lugged down like that, I know I'm gonna make better stuff, so I don't let it slow me too much.
Your videos are on another level; who makes them?
Bailey Watts. He's amazing. I've kept him on for every song that we've done so far. I know that I can shoot for the stars with him, and then bring it down to a place that is logistically possible. He's selfless in the way that, he has creative input but he's doing it because he loves it, for the art and because he wants me to feel super happy with the end result as well. That is invaluable for me.
I consider him a friend now. We actually met through working on my first visual project. I grew up in the central coast and found it harder to find creative minds or people that expressed themselves in that way around me. He lived an hour away and hit me up about doing a music video.
Do you have any big music video projects that you think have been held back by limitations in production?
There's some crazy stuff I wanna try that's just held back by things like budget, but I'm not in a rush be at that stage yet. With where I'm at in my career it wouldn't make sense to me to do high budget video. It wouldn't be believable.
When I first signed to the label having all these resources and a bigger budget actually made it harder for me to think of things for a few months. I was almost more creative when I had less options, then I had more options and I was overwhelmed by that.
It's a bit of a balance really. I'm never doing things big and expensive needlessly, just because I can. I care really deeply about how the visuals correlate to the song.
Today it seems that the likes of TikTok, Instagram, and Youtube have a big effect on an artist's exposure. How do you feel about having to be so constantly wrapped up in that world?
This is something I battle with often. On all of those things I'm able to leave different reference points for people to find me, so that can end up at my music and potentially fall in love with it. This is a big pro. Having said that, I do find that doing things like TikTok and content creation in general, to be really laborious. It makes me wanna pull my hair out because I don't make music to sell myself in that sense. I didn't sign up to be an online personality. I'm an artist. I don't put these videos up for 'x amount of views', I put these videos out for me, because for me it wouldn't feel right if they didn't exist with the song. That's where it stops for me. I create for myself.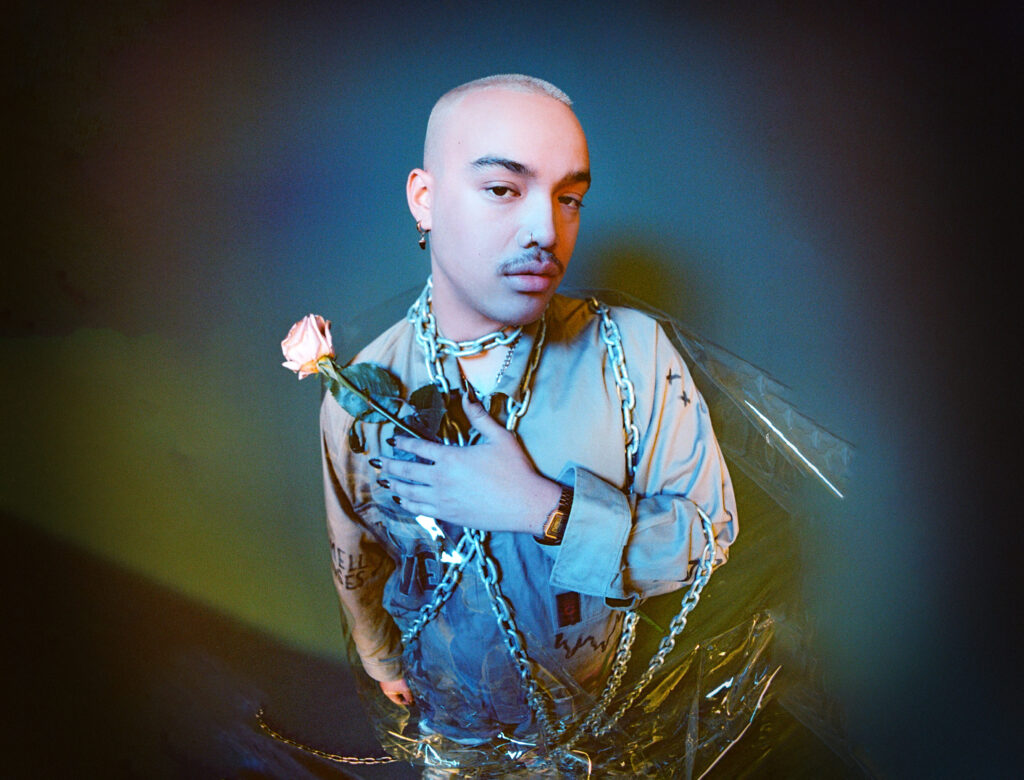 In the age of online streaming, it seems that people have come to expect music for free, with monetisation usually favouring streaming giants rather than individual artists. What are your views on this?
At the moment it looks as though the main streams of revenue for artists are merch and live shows; there's something wrong there. It makes no sense that the actual music that gets made makes less money than the clothes that come with it, or the live performance of the song that everyone loves. The reason people are coming to the live shows is because they're in love with the audio file.
At the same time, I'm grateful that it is accessible to everybody. A generation before mine would not have been able to have their song heard randomly in all these different countries around the world.
What is the best advice you have ever received or something you live by?
I ask myself 'am I doing this out of fear, or doing it out of love?'. That helps me to decipher where my mood is at, because if I do reach a point where I'm operating out of fear, then it's a moment for me to check myself, and allow thoughts and feelings that I don't wanna resonate with to pass.
Do you have any words of advice for upcoming artists?
There is no one else better equipped to make your music than you. Don't listen to others, just make what you think is cool and for god's sake please just release it. Don't worry if you think it's not good enough. You have a chronological hard drive of all these moments in your life and people deserve to hear them so just put them out there. Be okay with showing the process of the songs getting better as an artist and as a person.
If not music, what would you be doing?
Something in the realms of creative writing. A novelist maybe, I always loved writing short stories in school. Or an interior designer, anything creative. My brain doesn't like doing anything not creative, it sees it as a chore.
Another artist to watch?
Julius Black. He's a phenomenal storyteller and a really mature musician, you can just tell he has an old soul. I'm really inspired by him. Inspired to watch him grow. I can identify with the way he expresses his emotions, in a linguistic sense.
What's next for BOY SODA?
I'm currently finishing up my next EP. All the production and recording is done, I'm just nervous planning out how I'm gonna execute it and how I'm gonna make people feel personally addressed by it. It's got all my attention at the moment. A lot of things will be reactive, as most good things in my life have not been planned.
I'm not thinking too far ahead.
Words: Dylan Jay Turner
Images: Press Shots