Nonô is a Brazilian-born pop sensation who at only 25 has had a career full of experiences. The 25-year-old has been in London for 7 years having made the move from São Paulo to London as a fresh-faced 18-year-old.
While Nonô has been in the UK for the last 7 years of her life, it was the streets of Rio and São Paulo that forged the singer into the artist and woman she is today. The 25-year-old spent the first 11 years of her life in Rio before moving to São Paulo for the last 7 years of her time in Brazil, a nation where the residents share an instant rapport and togetherness an aspect of Brazil that Nonô shared with me as something she missed, "People are very open in Brazil, you meet someone on the street and you have this sort of intimacy straight off the bat … when I moved to London I was very much like aaayyy and people where like nooooooo".
 Nonô was raised in a house surrounded by her family, as a child she had a number of ideas for her future career, "Im either gonna be a firefighter, work with white tigers or I'm gonna be a singer, and I thought I'm gonna go with the easiest one", while the career path that takes you to become a global pop star may not be the easiest option for many others, Nonô had a confidence that was unstoppable and in her own words as a 7-year-old she had an 'Unhinged ego' and would constantly put on shows for her family before moving online, uploading videos on social media and youtube at age 10.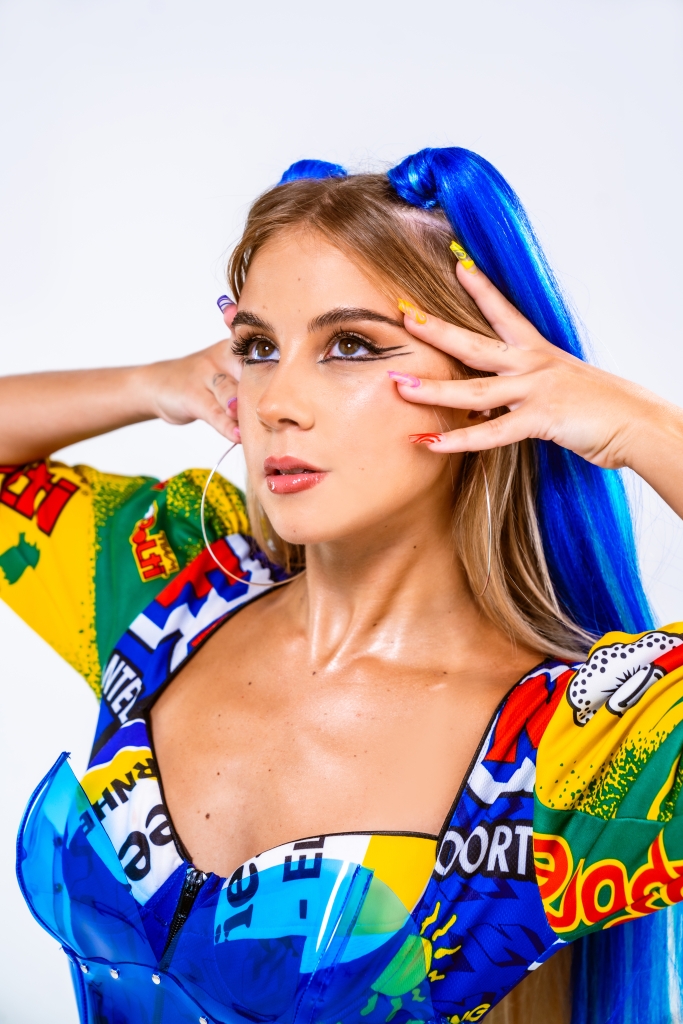 Having grown up surrounded by so family members of all different ages she would constantly find herself being shown new music, her mother and aunt would make her listen to Motown artists like Frank Sinatra, Billie Holiday and Tina Turner, and her sister would show her the Brazilian pop charts, while her brother would make her listen to Eminem and the system of the down. A chaotic listening experience that led to the Nonô of today being fairly genreless when it comes to creating and releasing music, "I try not to put myself into a specific genre, because I grew up with so many sounds and influences".
It was a few years later in 2014 when Nonô was 16 that she found herself on one of the biggest talent shows on Brazilian TV at the time 'The Voice Brazil', the show comes with an interesting backstory as years prior when Nonô was 9 her aunt would go to see a fortune teller who would go on to tell her that at age 16 her niece would appear on a reality TV show before going on to become a famous singer. The Voice was a massive opportunity for Nonô and while she didn't win, she did make it to the live shows and was able to build a following that meant she could sell out shows and professionally record tracks upon leaving the show.
Two years after appearing on 'The Voice' Nonô made one of the biggest decisions of her life and moved to London, the move being only the second time she had left her home country, the first being a trip to Disney. The move came as Nonô wanted to broaden her audience and see how far she could take her music in a different market, "London is such capital of vibrant different sounds" and Nonô was interested to see where it could take her. "It was really hard. When I was in Brazil I was exposed to so many people listening to my music and paying attention to what I was doing … and then I moved to London, I was like who am I? What type of music do I want to do? And how will I get people to know me?". Nonô left her home, a place she had only ventured out of once prior to deciding to move her whole life across the globe, the pressure was inevitable and so was the fear. Luckily she wasn't completely alone having moved in with an Uncle who lived over in London, 7 years on and she still finds herself in the bustling city, creating her sounds and growing her name out here. "Looking back now, the first few months I was here, I was like oh my god is this the right thing completely questioning everything, but nowadays I can look back and see that the decisions that I made definitely made sense and you never know what can happen, I try to have no regrets".
Nonô is now at home in London and still putting out great music with a strong ode to her home and those who raised her. Her latest single 'ATM' is a track that showcases 3 different languages, a number of genres and a message, "The song is my tribute to the women that raised me". While the track title may be a bit misleading, the song is about how you should share what you have with those around you," I wanted it to be about the way I was raised, everything you have is meant to be shared with the people you love".
Nonô is most definitely making her mark in London and at only 25 still has so much more to do, her plans for this year include "A lot of music, definitely an album, doing more shows and trying to gather the Latina community in the UK". If that wasn't enough to let you know Nonô has no plans of slowing down the last goal she told me was, "World domination baby".
Nonôs new track 'ATM'  is available to listen to her: