South of the Thames, nestled in a complex constructed of converted shipping containers, you'll find Reprezent radio. 'If you go in any taxi in Brixton you can hear them.' Blue Canariñho, one of the presenters tells me. We enter the studio near Pop Brixton, the station manager is training some newer presenters on how to use equipment.
We are led through studio two, a long and airy room with corkboard walls that looks over the street outside. There, I meet Bisola and Blue, who both have shows on the station. Bisola hosts a drive-time show on a Monday afternoon, whilst Blue hosts a show called Love in the Endz, in the evening.
Both got started on training courses; 'I think I started the training course with the intention of being a presenter.' Bisola says, 'But when I came over to the station here, you got a chance to do a lot more than just be a presenter, working behind the scenes is really interesting.'
Operating as a launch pad for talent, you can feel the passion in anyone you talk to at the station. If you listen to Bisola present, she seems to have unlimited energy; 'Because I'm always really happy when I'm on air. So I want everyone else to feel happy'
Bisola has been with the station since 2017. Starting as a broadcast assistant, she learned the craft of presenting. 'You can't slack. And I think it kind of gave me a really good work ethic when it came to like making radio and knowing when I haven't done my best stuff that should have done. It gave me high standards.'
Bisola laughs when I ask her what the vibe of her show is, 'I'd like to say organized nonsense.' She loads up Myriad and runs through her intro. Through pops and crackles, her name is announced to open up her show. She shows me today's playlist, 'real bum shakers' she calls them. Lots of Missy Elliot and Little Kim to ease into the drivetime.
I ask her about what it takes to be a radio presenter 'If you don't do your research into the tracks that you're going to be speaking about, it shows. You can hear it when you only get a limited amount of time to speak. Cause your link should never be any longer than maybe 10 seconds.'
'If it's a feature and if you haven't done your research for that, all your chatting is just about how you feel and how it makes you feel about something.'
Radio to some might seem archaic, an institution of the past that conjures the phrase 'Video killed the Radio star'. However the hook from the 1980 song from the band The Buggles isn't actually true.
According to RAJAR (or the Radio Joint Audience Research), 75% of the population listens to live DAB radio at least once a week, accounting for more than 688 million hours. Audio content is more popular than ever and Reprezent Radio is training the next generation right from the heart of South London.  
It's a relatively small space, rather than the huge offices at somewhere like 'Something Else' or the BBC. But the space is filled with huge microphones and sound-boards. The walls are adorned with signed Lianne le Havas, The XX, and Little Sims vinyl records, all musicians who have worked closely with the station in the past. Talent recognises talent here.
Bisola's show also has some brilliant interviews, 'I had a chance to speak to Pop smoke and obviously, I was the biggest Pop Smokes fan. So just having a chance to speak to him, I absolutely love that.'
Another memorable interview was with TeeZandos; 'So like, it was awkward at first, but like what, once the interview got going, she was so much fun to talk to you. And there's like a smashed guitar outside. When you're walking up the stairs that's because she smashed the guitar. We gave her a chance to be a rockstar. And that was one of my favourite interviews.' 
Reprezent Radio also plays an important role in diversifying the radio industry. According to Ofcom's 'Diversity in Broadcasting' report, in 2020 the BBC was 88% white with only 9% reporting as 'minority ethnic'. Whilst the radio industry is generally at parity when it comes to gender, the lack of racial diversity within the industry is problematic.
Reprezent is an institution that welcomes diversity. As Bisola says 'It's definitely nice to work around other black women, especially that's it's nice to see other people that look like you. I think representation is, just it's that it's being in a room and not being the only black person in that room.'
I talk to the station manager Adrian, who started on a '6-month contract when the station got its FM licence and now 11 years later we are still here.' The station started in 2008 as a pet project and was only really streaming for a couple of hours an evening he tells me.
I asked him about challenges that the station has faced, since a lot of its contributors are still at school; 'we are the only station that has to devise a schedule around A-levels and GCSEs. We are the only station that has to ban presenters from coming in because they have to go and study.'
Reprezent is one of the few institutions of its kind. Grassroots radio is something that is underrepresented. As the audio market continues to grow and adapt, radio stations like Reprezent are at the forefront of evolution. Considering that the traditional route into radio is via university radio stations, Reprezent provides an important entry point, external to the formal education system.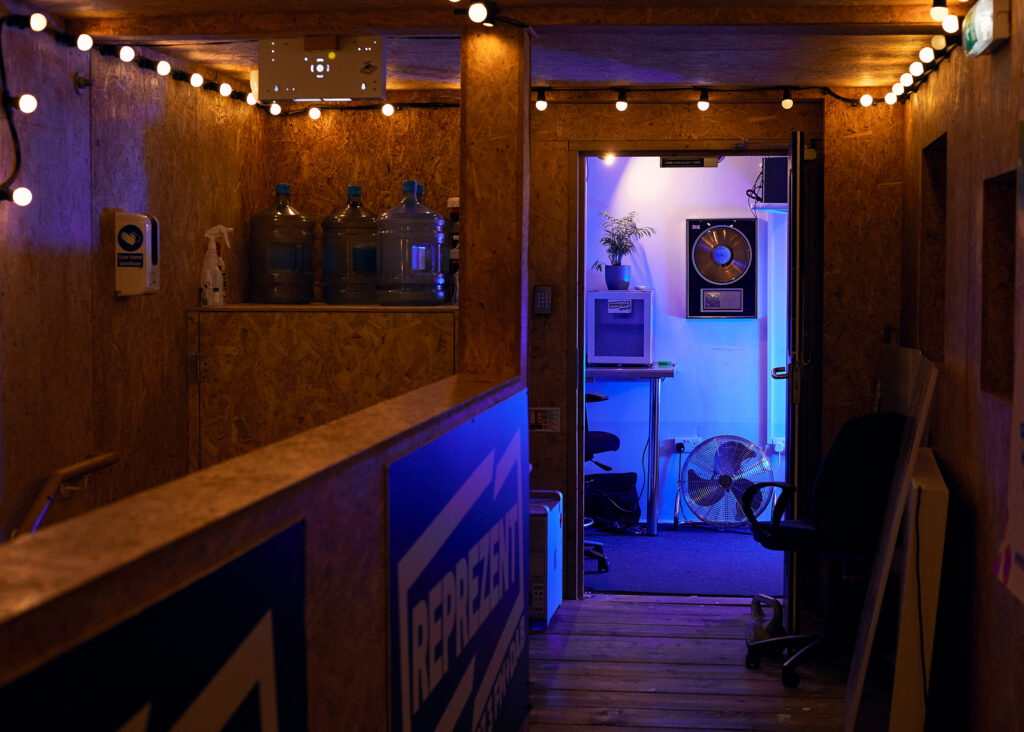 Their core philosophy is to put people on the radio 'that haven't had radio experience before'. Adrian admits; whilst small, that 'pretty much every station, that you listen to whether it's commercial or public broadcast, is populated with Reprezent Alumni'.
You can listen to Reprezent Radio through Mixcloud and it broadcasts 24/7. Bisola's drivetime show is on between 15:00-17:00 every Monday. Blue Canariñho presents Love in the Endz and you can catch him from 19:00 – 21:00 on Mondays.
Words: Peter Wellman
Photos: Ayesha Kazim