Goldsmith Vintage, one of London's favourite vintage retailers, has teamed up with fashion industry experts in search of the nations 'Alter Eco'. Cyclical fashion is the key component of the national up-cycling competition, which is catered to the UK's top fashion universities. Testing the creative strength and skill of the next generation of designers, Goldsmith Vintage is putting vinatge-reowrk in the curriculum of the UK's top fashion universities.
From a small market stall on Brick Lane in the 90's, Goldsmith Vintage has flourished into the well-known vintage hub it is today, with stores in Portobello, Charing Cross and Covent Garden. With a strong inclusive, cultural heartbeat, Goldmsith's ethos centres around equality, environmentalism and opportunity; the perfect mix for a competition such as 'Alter Eco'.
A competition that illustrates the importance of giving clothes a new lease of life. As they say 'reuse equals beautiful, original fashion'.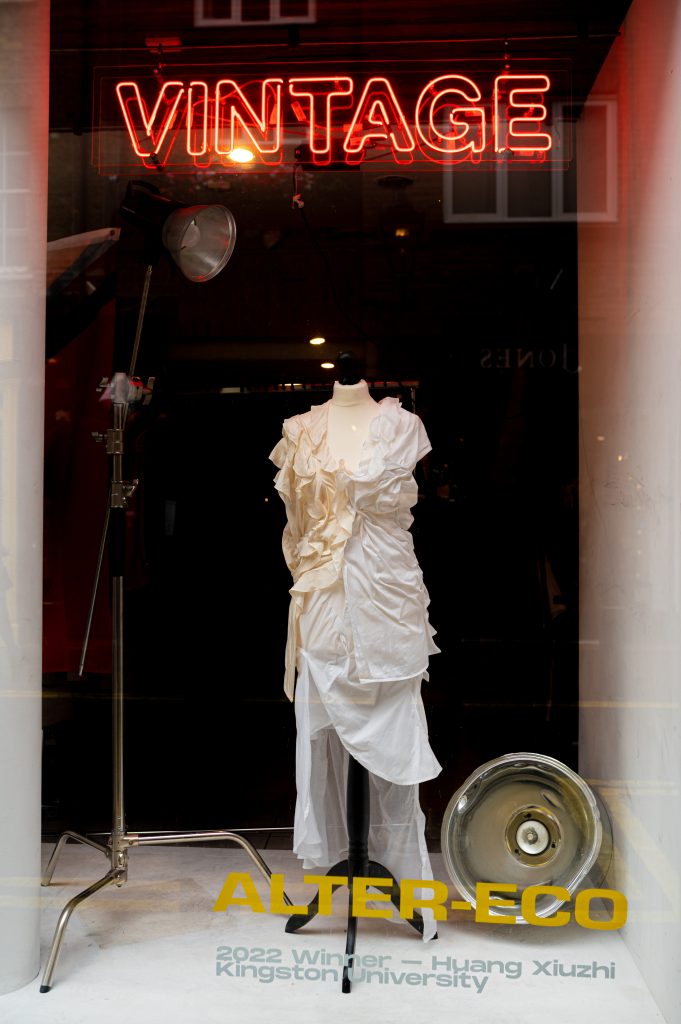 Founder Peter Goldsmith comments: 'The idea for Alter Eco was hatched during the pandemic to give students a platform to express their creativity. it's been amazing to see it properly take off this year – not just in London but regionally too. The standard has been really high and we're so proud Alter Eco has been adopted into university curriculums. Thanks so much to all the students who've entered, and of course our fabulous industry judges. We look forward to welcoming more universities to take part next year.'
Lets get down to the logistics; 250 fashion students had 4 months to design and create unique garments, using 200kg of vintage deadstock, which was judged by 4 expert judges from industry. No extra embellishments were allowed and each student had 1.5kg of deadstock to play with.
Entrants included students from Central Saint Martins, Kingston School of Art, Salford and Middlesex University. Submissions were shortlisted to the top 30 designs which were marked on commerciality, originality on quality of execution by an exciting expert panel. Judges included; Fashion Designer and Sustainability Consultant Patrick McDowell, double BAFTA award winner PC Williams, fashion editor Joy Montgomery and author Lauren Bravo.
Caroline Alexander, BA Fashion Senior Lecturer from Kingston University comments: "We have been delighted to take part in the 'Alter-Eco/Goldsmith Vintage' upcycling project. The competition provided an unparalleled opportunity for our students to learn about the demands of a commercial brief for a brand and their consumer. The project has also given students an exciting opportunity to engage with sustainable fashion and learn how deadstock and vintage clothing plays an integral part in the circular economy. Students are now more conscious about their responsibilities as designers as well as consumers, because of this invaluable experience."
This year's winners were unveiled on May 19 at the Goldsmith Vintage Neal Street store. 1st place prize was a dedicated window display in Goldsmith Vintage's Covent Garden store for the full month of June 2022 £500 of vintage shopping vouchers. Meet the finalists below.
1st place Huang Xiuzhi (white two piece shirt)
PC Williams' feedback: "I really enjoyed reading your thinking behind this design. I love the concept and that you were able to effectively communicate that through your garment. I also love the fact that I am unable to tell what your upcycled garments were originally. I think that the textile development is super interesting and you should be really proud of your final outcome"
Patrick McDowell's feedback: "Huangxiuzhi's dress had an in depth research story that connected well with their final piece. It was also great to see an interesting textile technique which was well developed combining multiple pieces of fabric. It would have been great to know what the garment was upcycled from in your description."
Huang Xiuzhi commented:"I was inspired by the artist and photographer Honey Long, in particularly his intricate attention to natural beauty and the female form. A lot of my research was based around sculptures – I hope my design will suit all shapes. to me it feels like the moving river against my skin."
2nd place – Bay Paley (Pink quilt skirt & top)
PC Willliams' feedback: "I think the workmanship that has gone into this design is incredible. I am really
into the multifunctionality of the design. It's a smart way to design thinking about the future and the fact that our garments should be giving us more than just one moment. This is beautiful!"
Patrick McDowell's feedback: "Bay's final piece was very well executed; with colour co-ordination, quilting and a multiple layered final garment. Upcycled from old quilts and shirts, it was great to see the pieces have another life in this garment"
3rd place – Bianca Gheorghe (Checked blanket jacket)
Patrick McDowell's feedback: "Bianca's piece was a beautiful display of design, the attention to detail creating a reversible jacket to make it multi-functional was a true display of reuse and upcycling."
Check out the Goldsmith Vintage journal and store here.