Wallis Bird is a one-woman tour de force. An Irish Folk singer who's dipping into electronica for a mind bending collaboration with producer Phil Miller for her new album Hands. It's an return to eighties heavy synth, melding with her folk sensibilities to create a medley that's an ode to movement.
Wallis Bird calls in from her stylish Berlin apartment, which is covered in art pieces from the local community and a sofa she made herself 'And it's surprisingly comfortable, which truly was surprising. It was the first bit of furniture I've ever made.' Another pandemic project which she started as 'I come from a family that are capable, handy people. But I never thought I would be able to do it, but turns out all you need is practice.'
Wallis is a person who is constantly creating, constantly moving and changing within her music. At the age of 18 all her fingers on her left hand where severed in a lawnmower accident and then reattached apart from one. Whilst never shying away from telling people, this is the first time she has really brought attention to it.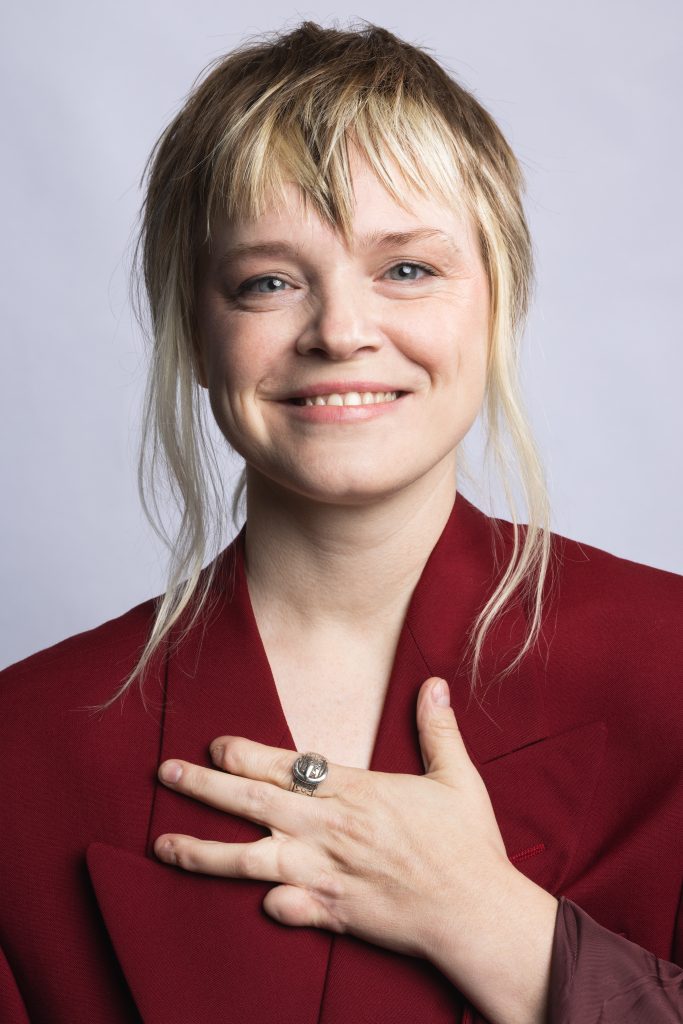 'I feel like your physicality tells a great story and you should love it. And people should love all physicality. I'm personally a big lover of scars. Anything that's not the standard, because everything tells a story.'
Hands is her 7th studio album, which has the great tagline of 'nine and a half songs for nine and a half fingers', this being one of Wallis's more personal projects which came from a literal desire to create. 'And I began to think about things that I love and it's handcraft and a connection between materials and seeing your work fruit into something physical. So I started making furniture and I started getting at the documentaries about handcraft.'
'And I realized, I was like what's this constant reference to hands? Because they were the main thing that we couldn't use, we couldn't touch each other. We couldn't connect. Communication was brought to a minimum and I reckoned with my own life. I looked upon my own life and I gave up drink and I ended up staring at my hands a lot.'
With this album she took a departure from her usual sound. Teaming up with the electronic folk producer Phillip Miller partway through the pandemic.
'And my manager was like, look, I think you should work with Philip Miller. He would fill the well basically. Philip Miller is an electronic-folk techno artist and he blends those worlds really beautifully. And I went over to his house for a week. We barely knew each other, I went into his private home where his studio is, stayed with his family for a week and the kids and the animals and the dog in the middle of nowhere. And we just played the kind of music that we'd want to play. We had nobody pressuring us and we had really intense amounts of laughter and passion and fun and experiment.'
This album this came from a real place of love. No Pants Dance and Changes come from a love of eighties synths. This is a real place of nostalgia for Wallis. 'I find that the eighties hold this special place in my heart of straddling pop with really incredible complex writing. I think eighties pop was really something deeper and unusual because everybody was trying to out unusual themselves. And synth is something for me, which I, coming from a folk background, never really toyed with.'  
The album is filled with stories including the interesting one of No Pants Dance: 'I was recording a song who was recording in sludgy New Orleans and I looked across at the window–it was March when the restrictions had lifted and you were allowed to have five friends in your house, and can you imagine, when this happened, it was like hallelujah!–and I looked across and they were either topless, bottomless or totally naked beings jumping around like absolute crazed animals.'
'And I like called my girlfriend Tracy like, 'I can't, I'm not looking, but I can't not look, you know?' A joyful album cut that is a real funky celebration of dancing of being together. Considering during the pandemic the body became a carrier for an invisible harm, Wallis takes the body and provides a safe place to explore like an oasis within sound.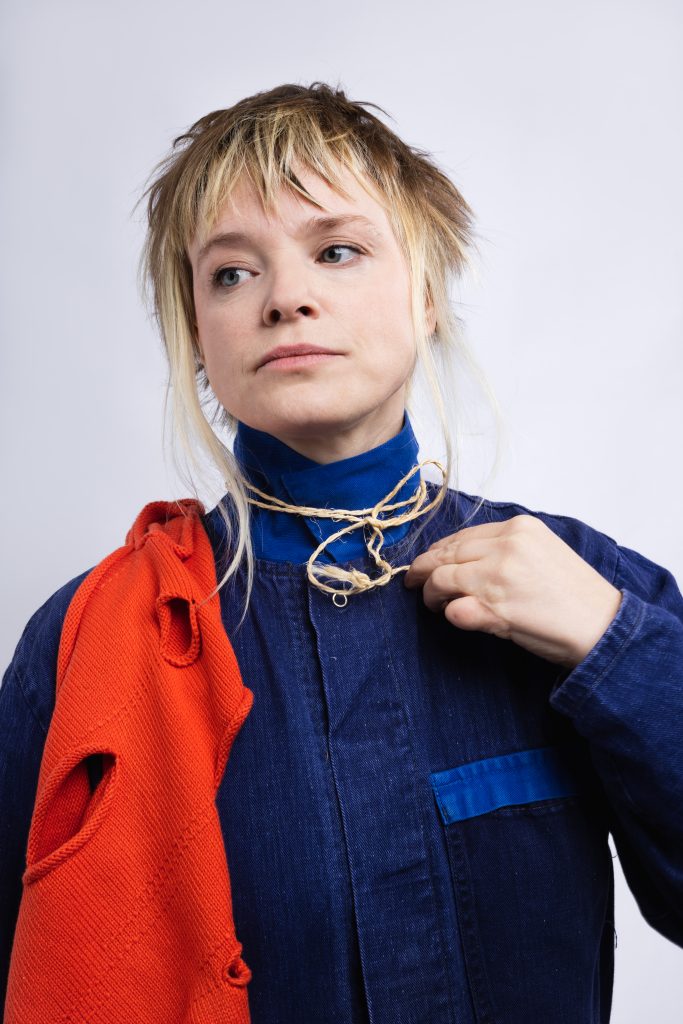 Living in Germany, the attitude to the body is very different to her native Ireland. The culture of Freikörperkultur (or FKK for short) which translates to 'Free Body Culture' is an attitude towards the naked body that returns it to the natural rather than a sexual space. As Wallis explains, it comes from East Berlin before the wall fell.
'So being naked was their defiance and there's a real okayness with being naked, families you know it's totally okay. And it's separated completely from sex and coming from my culture in Ireland. I think it's something that absolutely fascinates me.'
'I'm coming from a Catholic background where your body is fucking disgusting and you must keep it clothed and hidden. And I was like, what is this? So I jumped in and I separated nakedness from sex. And I portrayed adult play as somewhere in a safe space while also being naked as a happenstance. And there's nothing dirty, dangerous or sexual about it.'
In this era of not quite post pandemic, Wallis is rewriting the nature of the body itself. Taking it from sinful and dangerous flesh, to bodies that make people feel safe within themselves.
'So for me, it was important to mix in the things that made me feel good, like nostalgia having my whole entire life put up in front of me, like a carrot in front of my head. What do I love? I love dancing. I love going out. I love having my eyes closed and like throwing myself around in a room.'
Although she also notes that she wasn't getting a lot of exercise during the pandemic. 'So I chose the most entertaining style of music that would get me out of my seat and exercise to get some cardio in, and that was eighties synth.'
Unhappy with the state of the world, she is also doing charity concerts 'I'm doing a charity show to raise funds for homelessness in Ireland, which is for one of the richest countries in Europe. It's a travesty. So we're raising funds and awareness about that.'
When not creating music she surrounds herself with musicians that are FLINTA driven; either female, lesbian, intersex agender or non-binary.
'And now I want to go back to just blasting the head off an audience every night for two hours with these crazy like-minded people.' Returning and creating a punk aesthetic, Wallis is someone who has been kept silent for too long and is ready to make some noise again. Although she does seem to be settling in the German countryside quite nicely…
'And after that, I've just bought a house in the country, a big farmhouse with my girlfriend with two other couples just outside of Berlin and we're currently renovating. We're hoping to make it into some kind of a massive retreat community based artistic haven.'
The next stage for Wallis is to keep making music and also get back into handywork. 'I want to be able to work a chainsaw and work a band saw. And I want to be able to scream my head off with the chainsaw in the middle of the night through music.'
Wallis Bird's new album Hands is out now and available on all streaming services and is touring it through Europe, with dates you can find here https://www.wallisbird.com/live
Words: Peter Wellman
Pics: Tobias Ortmann