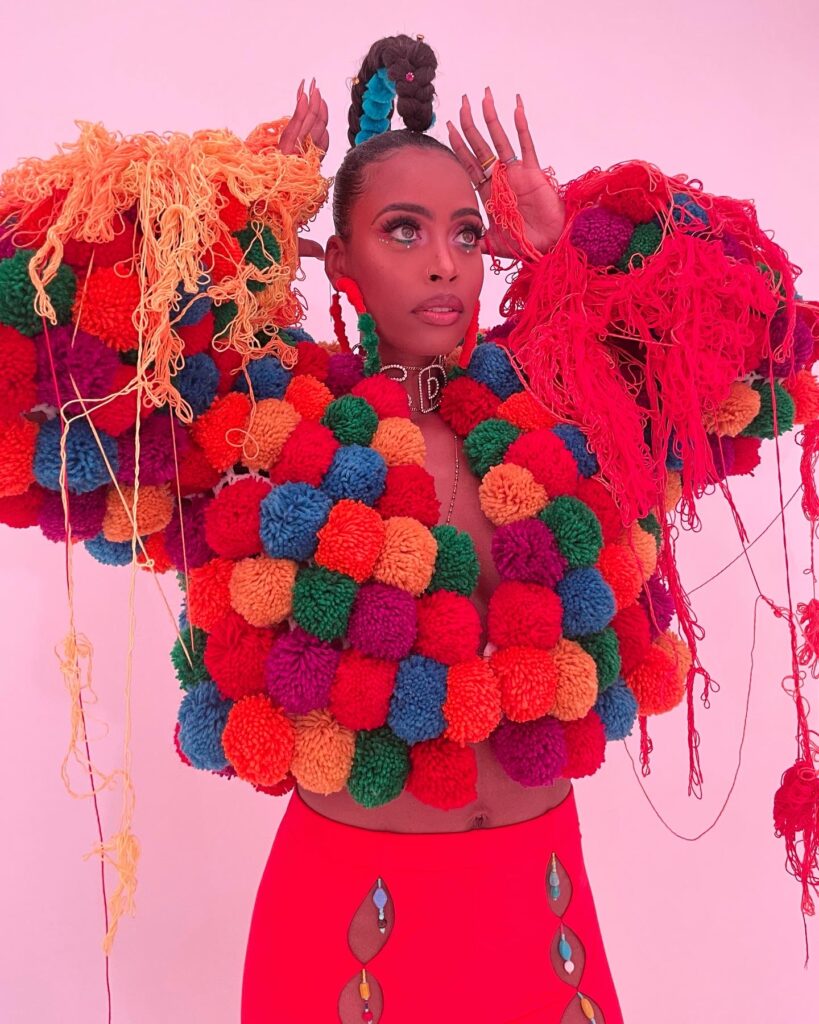 Born and raised in Paris, Melli states that although she came from a modest family, she was never left wanting. Her mother especially ensured that she had everything she wanted and was given every opportunity in life to go far. 'Go Far' is exactly what Melli did. After picking up gymnastics at a young age, Melli then joined track and field before settling on the sport that would take the young star to be, to her current country of residence, America.
After completing her three-year bachelor degree in France, Melli found herself at a crossroads. Not wanting to dive straight into the corporate world and not wanting to pursue further education, led Melli to exploring other options. This is what brought her to discovering a program, which allowed young athletes to send their tapes to coaches in America with the hope of being selected for a scholarship program. Melli, was selected for a volleyball scholarship to play for the University of Maryland, who took her on as a junior.
Melli mentioned that she believed that she spoke English pretty well before arriving at her new home, but upon arrival she quickly found that with all the different accents, slang and speed at which the natives spoke, her level of English was left wanting. She credits Law and Order as the show that helped teach her English.
"If you can understand Law and Order, you speak English"
Her lack of 'slang knowledge' at one point had the boys of her university thinking she was rather promiscuous… After being asked by one of them if she was talking to anyone, Melli responded "Yes, I am talking to loads of people, all the time". Luckily her fellow volleyball teammates were able to explain to her what she had just said.
Language wasn't the only adjustment that had to be made, Melli recalled not liking the food that the states had to offer, stating that it was a far cry from the food she was used to back in France. Melli did admit that after living in the states for so long now that she eats all America has to offer. 
After finishing her degree at Maryland, Melli decided to move to Washington to search for a job. Working as a temp for a school, Melli quickly realized that the pay was "trash" and felt like she was basically working for nothing. She then turned to waitressing, which led her to bartend, in a high-end restaurant, where the tips were anything but 'trash'.
After working in Washington, Melli decided to move to Atlanta, she was able to transfer locations at her current workplace to one of their locations in Atlanta. Lack of representation was one of the driving factors that inspired the change of location.
"I wanted more black people, everyone said that Atlanta was known as 'chocolate city' so I wanted to see that"
Growing up in such a culturally and ethnically diverse part of Paris, left Melli missing the multicultural way of living whilst in Washington. Also, the humid and heavy weather and mild winters went a long way in backing up her choice to move to Atlanta, where she lived for six years.
Melli then decided to follow in the footsteps of many stars who came before her and moved to Los Angeles. This is where we began to see the first signs of the outrageously outspoken character that Melli has become. Melli first started a Youtube channel where she would deliver all the hot celebrity Goss. Mellis' partner at the time was doing a similar channel and suggested that Melli do the same, as the celebrity gossip well never run dry. 
Unfortunately, due to copyright reasons the channel was taken down, which was a relief for Melli as she was growing tired of always trying to keep up with the latest celebrity gossip. Melli added that nowadays she is so out of the loop of celebrity news, that she is always left shocked when someone tells her that 'so and so' just had a baby, claiming that most of the time she wasn't even aware that they were pregnant!
Once she was made aware that her celebrity channel would never be allowed to be monetized, she decided to build another channel, but knowing how long it takes to make a channel lucrative, she decided to explore making music, to help express how she was feeling.
Following on from her music where she placed her thoughts and point of view at the forefront. Melli decided that her new channel would also focus on what she is good at and not celebrities. After a long brainstorming session, Melli decided on what is now known as 'Learn some game with Melli'. Melli said that her guy friends would always come up to her for advice when things weren't going great in their relationships, so Melli took to Youtube to share her 'game' with the world.
Although her channel quickly grew, it did not come without its fair share of haters. With people claiming that she wasn't being authentic and she is just clout chasing etc. but Melli confidently says that despite the fact that she is aware that there will always be haters in the comments section, that doesn't stop her from reading the comments section. She is self-assured enough to not let the negative comments affect her and focus on the nice comments. She also makes sure that she is always growing by reflecting on any constructive criticisms she may receive to help her improve her craft.
For all the single guys out there Melli had some advice to help improve their game. Confidence is a big factor, with Melli stating that females will be able to smell if they are scared. So she stresses that guys can't be scared of rejection as it is a part of life. Even so much as a simple 'Hello, my name is…' can go a long way.
Along the way Melli also created 'The Pineapple Show'. Starting off as spontaneous Instagram live chats with her fans, soon grew to a dating show where the woman would hold the power to decide if a guy will stay on the screen or be booted. The name of the show came from an early iteration in which a woman was trying to discreetly get Melli's attention to tell her to give the guy the chop but Melli didn't pick up on it. She then decided that she needed a safe word, which became the word Pineapple. Despite many of the female viewers seeing the show as a way of giving power back to the woman, Melli claims that this was never the case, but she is happy that it is seen that way and not negatively. 
Melli has never dared put herself in the hotseat to 'pineapple' a guy, she did reveal in an exclusive that she is currently getting ready to release an untitled new show, in which she takes guys on dates and at the end of each date she makes them perform a lie detector test to see their true thoughts of the date.
Aside from her dating videos, Melli was also busy exploring music. She started out doing one video a month, which gained varying levels of buzz. She recalled attending an album release party where she met an old friend who had started a label. He told her to come visit him next time she is in Atlanta. When they next met in Atlanta, he looked at her numbers and her videos but did not see a song which really stood out to him. He offered to help her with artist development, which led her to working with a Grammy award winning producer 'Needlz'. Needlz and her friend forced Melli to come out of her comfort zone and convinced her to enter the booth the same day she received the beats, to start spitting her verses.
The reception from everyone in the studio was amazing, from the moment she spit her first few bars. This increased her confidence and helped her create her up-tempo banger 'Marché', not fussed with the fame and fortune that most people in the music industry crave, Melli is content with people hearing her song and having fun with it…although she was quick to add that if that happens to come with fortune that she would never say no to that.
Looking to the future, Melli would love for her music career to lead her down the path of opening for a well-known artist or even recording a collab with industry heavyweights such as Rihanna, Drake or Chris Brown. For her videos, she just wants to keep growing and creating more content and maybe one day be picked up by a bigger network.
Mellis latest single 'Marché' is out now and you can also catch 'The pineapple show' with new episodes out every Wednesday and much more on her YouTube channel and other platforms @Melli Monaco.
Words: Dylan Hannigan
Images: Press Photos