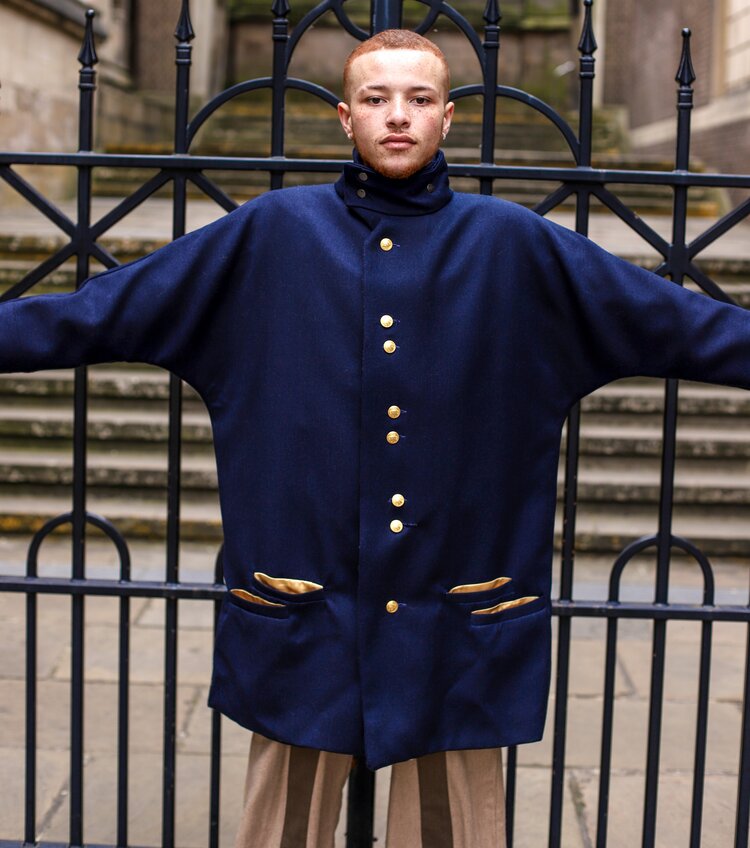 Name: Kiara Oluyole
‍Age : 21
‍University: Nottingham Trent University
‍Course: BA Fashion Design  Graduate
‍Describe your design aesthetic in 3 words?
Being at such an early stage of my 'career' I do not want to put myself in a box. However, I do think that my designs would probably be interpreted as 'streetwear'. I focus on function and durability because I believe garments should be purposeful if they are brought into the world.
What message or story do your designs portray?
Military wear is one of my biggest menswear influences. I always want to make sure that I am putting black cultures, my heritage and all the societal issues I care about at the forefront of my story and concepts. So, I always want my designs to portray all these themes in a positive light. 
What is one career aspiration that you'd most like to achieve?
I want to have my own label that will transcend through time. 
What do you think is the biggest issue facing the fashion industry today?
I would say that the biggest issue I notice is diversity and inclusion. Tokenism is always being used by brands, which I find highly offensive when black cultures are constantly used as inspiration and influence but not respected. We are used as trends but under-represented in fashion. 
How do you think the pandemic is going to change the way we consume fashion?
I am not sure, I do not think it has changed how we consume fashion; it is still very online sale driven. It has probably heightened consumption of fashion online. However, I do think the industry has and will change further, which has made us engage with fashion differently with things like virtual fashion shows, and will make designers present very differently. 
How is your concept design going to translate to something people can wear in everyday life ?
My process from concept to a garment that is wearable comes from doing a lot of design development from 2D to 3D and experimenting with fabrics. 
What has been your biggest inspiration to create fashion?
This has changed over time, but currently seeing ideas and conversations online about durability and sustainability has fuelled a lot of creative inspirations. 
Where do you see yourself in 5 years' time?
In 5 years' time, I would love to be a creative director and own my own label.