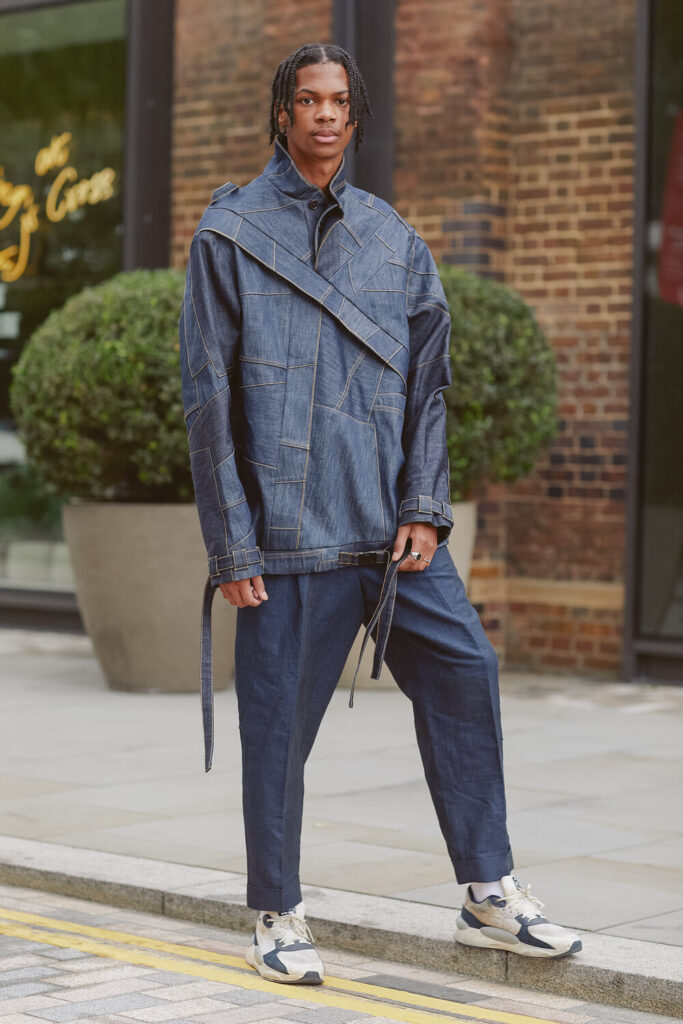 Name: Henry McCready
Age: 23
University: Nottingham Trent University. Course: BA (Hons) Fashion Design
Describe your Design Aesthetic in 3 Words. Utilitarian, Functional, Innovative
What message or story do your designs portray?                          
The collection was based around the concept of 'studio scraps', working with designers and mills from around the UK. It's about sustainability and responsibility working with their offcuts, scraps and test pieces. Promoting this further by turning the production markings into a graphic that was engraved into the back of the denim jacket. The ideas of my graduate collection reference mental health:  looking at the beauty and fragility in young people today. With references to the functionality of uniforms from both military and workwear while taking influence from sportswear within my designs. 
What is one career aspiration that you'd most like to achieve?                  
I hope to work with like-minded people to create something that is not only sustainable, but truly responsible design without diluting the overall innovation in design. Looking at the possibilities of creating a circular product and truly questioning every stage of production to aim for a minimal impact on the planet. 
What do you think is the biggest issue facing the fashion industry today?
Being the second largest polluter in the world, I think it is not only the amount we're producing and consuming but also the stages leading up to the garment being on a hanger. The carbon footprint is a major issue but I think another major problem is what we're leaving behind, from the initial making of the fabric and toiles to the final products. The large amount of offcuts that are going to landfill due to the nature of garment manufacturing is something that I aimed to reflect and respond to within my work.
How do you think the pandemic is going to change the way we consume fashion?
I believe in the future people are going to want more unique products that are individual to them. Whether it through the adjustments of fit or material choice or interest in something that has a story to tell and will develop and grow with them. I've seen this first hand from the feedback and the individuals that have purchased my jacket that was featured at Graduate Fashion Week. There was a strong interest in the design but also the origins of the material. 
How is your concept design going to translate to something people can wear in everyday life? 
The design is built with a focus on construction, functionality and longevity. It may not appeal to a large audience but I try to design in a way that the unique pieces and commercial design are not too drastically different for this collection. The small changes include changing lengths of details or adding new fastenings to using end-of-roll material for non-patch worked garments. With the offcuts going back into production for other garments. 
What has been your biggest inspiration to create fashion?     
The biggest inspiration for me is my interest in how a garment performs and serves a purpose. This naturally brought a fascination with military clothing and archives. Looking at how every little detail has a function and purpose. 
Where do you see yourself in 5 years' time?                     
In 5 years I hope to be working within a company that has a strong focus on inspiring, innovation, sustainability and responsibility to bring truly unique new design.
Interview: Sophie Roberts