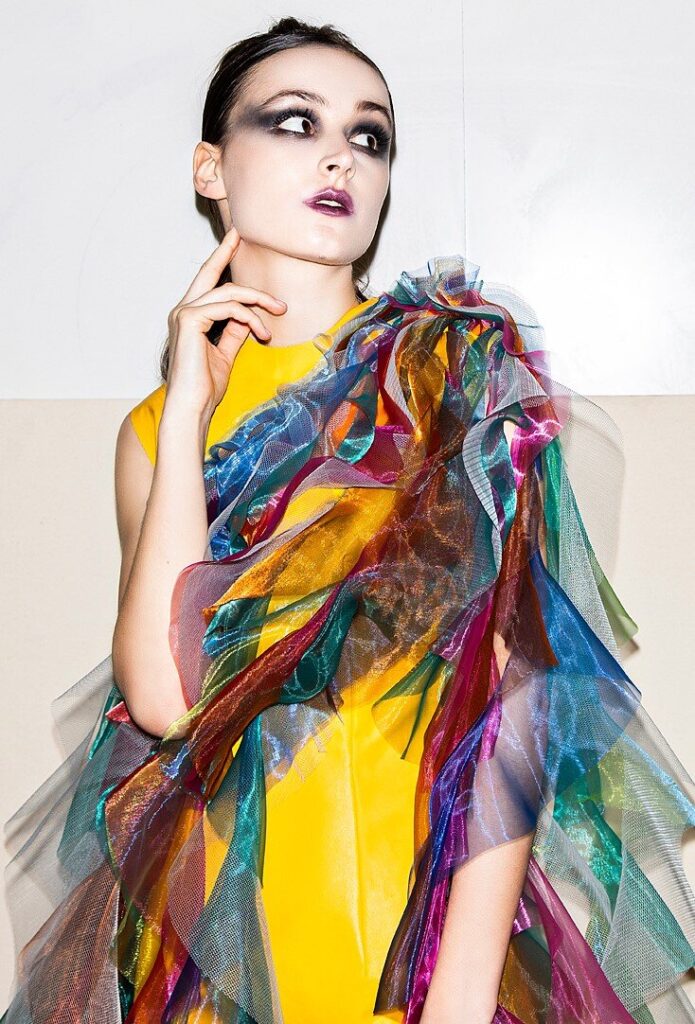 Name: Kate Loveday
‍Age: 23
‍University: Norwich University of the Arts
Course: BA (Hons) Fashion
‍Describe your design aesthetic in 3 words? Colour, Structure, Texture
What message or story do your designs portray?
My graduate collection was really focused on the environment. Having lived by the beach all of my life, I wanted to use my collection to raise awareness about how the world's oceans are being affected by climate change and ocean acidification. I wanted to use vibrant eye-catching designs to catch people's attention. I also wanted to use sustainable fabrics such as repurposing fish skins, to combat waste, as the fashion industry is one of the leading producers of waste products.
What is one career aspiration that you'd most like to achieve?
I would love to have my own fashion brand one day.
What do you think is the biggest issue facing the fashion industry today?
The sheer amount of waste products being produced by the fashion industry. I think a lot of brands are focusing on being more sustainable with fabric choices and also brands are working to be more ethically aware with their workforce. However, more focus needs to be put on wearing items more than once and only buying what you need rather than what you want.
How do you think the pandemic is going to change the way we consume fashion?
I think that the pandemic has highlighted the need to buy less and enjoy/wear the items already in your wardrobe. Supporting smaller, independent and local brands is also really important as sadly these are the businesses which may fall victim to loss of trade due to the pandemic.
How is your concept design going to translate to something people can wear in everyday life?
Although my collection was created with high fashion and making a statement in mind, the bright colors and use of a variety of textures in garments are concepts which could be applied to everyday wear. For example, I would love to experiment with shortening the organza on the yellow dress and adding sleeves.
What has been your biggest inspiration to create fashion?
My biggest inspiration is to push myself further to create something new and unique and befree within the garment development process. When I was little, I would see my Mum creating dance outfits for me which allowed me to see garments come to life. When I studied textiles at high school this propelled my passion for sewing and being experimental with my creations. This developed further each time I went on to my next level of study to broaden my knowledge and inspiration for the creation of each garment.
Where do you see yourself in 5 years' time?
In 5 years time, I would like to be either working for a fashion brand I am really passionate about or manufacturing my own clothing range for my own brand, seeing my designs worn by the public.
Words: Sophie Roberts
Images: Kev Foster