Oxymorrons embodies the essence of New York City, a melting pot of sounds, styles and cultures that can never be succinctly defined or shoved in a box. Comprised of vocalist brothers KI and Deee, drummer Matty Mayz, and guitarist Jafé Paulino, their diverse backgrounds, eccentricities and flawless imperfections blend together to create the soundtrack of our big city lives. Always with an eye on the bigger picture, Oxymorrons use music as a catalyst for change, an opportunity to help craft a global movement that never fails to put community over division.
The Queens-bred brothers, KI and Deee, were touched by the power of music at a very young age. "When you're raised in Queens, you're exposed to a melting pot of cultures, which shed light on multiple genres of music. Our dad would be bumpin Prince, Bob Marley, Lionel Ritchie, Phil Collins, Billy Joel, etc. Our older brother would have artists like Biggie and Metallica on repeat. Queens birthed many hip-hop superstars like Nas, 50 Cent, Nicki Minaj, RUN DMC, Onyx, while also birthing rock stars like the Ramones, Anthrax and Bayside. It's no coincidence that when it was our turn, we would create something so hybrid." For the brothers it was always about finding their own sound and carving their own path, taking inspiration from acts like N.E.R.D, Jay-Z, Lincoln Park, Kid Cudi, Outkast & Lupe Fiasco to be unapologetically themselves. The eventual additions of drummer Matty Mayz and guitarist Jafé Paulino have proven integral parts of carving that path, and Oxymorrons have not looked back since.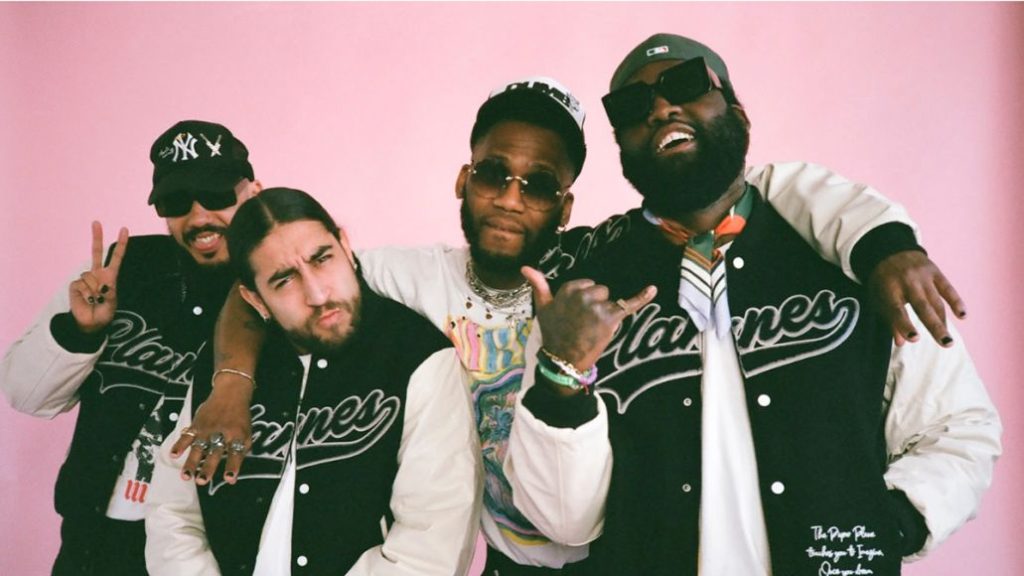 1. For someone that is yet to discover Oxymorrons, in 5 words how would you describe the band.
Most electrifying band in music
2. How did Oxymorrons come together?
So boom. Once upon a time, three pairs of people eloped, did the deed, and created 4 assholes who didn't believe in genres. After getting drunk at several NYC bars, they stumbled upon each other, found out they all did music, and screamed "did we just become best friends!?" Thus, Oxymorrons.
3. What's the story behind your band's name?
It's pretty literal. Combining cultures and genres of music that aren't expected to mesh together, and creating something new.
4. Where do you feel you fit into the music landscape?
We don't, and that's kind of our whole ethos. We are currently carving out our own space in the landscape of the music industry with our sound and movement.
5. What other artists or bands do you draw inspiration from?
N.E.R.D, Bob Marly and the Waylers, Rage Against the Machine, Linkin Park, and Outkast to name a few.
6. What's currently in the pipeline for you?
10/20 our debut full length "Melanin Punk" comes out everywhere! We got a ton of tours, visuals, and fun events coming your way, so keep your eyes and ears peeled.
7. If you had to boil down what you each bring to the band, what would your answer be?
Unique experiences from each one of our multi-culture backgrounds are important to the fabric of this band. Different languages, foods, and sounds influence what we all bring to the table when we are creating our art.
8. How do Oxymorrons differ from most other artists/bands?
Most bands do not authentically blend rap and rock together the way that we do. Bands in the space that were in generally do not look like us either. This is why we are carving our own lane in the scene.
9. What can fans expect from your new Melanin Punk album '.
An elevated form of the sound we introduced with the Mohawks and Durags EP that further explores our genre bending capabilities.
10. Who would you most like to collaborate with artistically?
Tyler the Creator, Pharrell, Rick Rubin, Bring Me the Horizon, and Ludwig Goransson!
11. What was your worst performance?
We haven't had a "bad" performance really. However, we did party too hard on Shiprocked one year and everyone lost their voice. Despite that, we still kicked ass in the middle of the ocean.
12: What was the most difficult obstacle your band has ever faced and how did you overcome it?
Being black in the rock space is the greatest obstacle. It runs the spectrum from blatant bigotry, to navigating a space riddled with micro aggressions. We are constantly having to prove ourselves and overcome stereotypes that our counter parts do not have too.
13: How does your creative process work – do all members contribute equally or is there one main songwriter?
All members absolutely contribute equally.You can get guitar riffs and drums from K.I or Dee, or bars from Matty and Jafe. Our unique sound is always created as a collaboration between all of us.
14: Is there a hidden meaning in any of your music?
No hidden secrets or messages our music. We say what we mean and we mean what we say.
15: Who would you like to see live past or present and why?
Queen, Prince, Nirvana, and the original Bad Brains line up. I don't think any of these legendary acts need an explanation.